Installation
Fitting VPCP and VMCP to the MRS / MRS2 rack
The VPCP and VMCP heated change ports can be fixed to an MRS or MRS2 rack system.  It is recommended that they are attached to the MRS / MRS2 rail using the following procedure, where it is assumed that the MRS / MRS2 rack system is correctly installed.
Insert one of the fixing screws through the VPCP / VMCP.
Position the VPCP / VMCP underneath the rail and locate the respective T-nut within the rail*.
Hand tighten the fixing screw into the T-nut and repeat the process for the next fixing screw.
Position the VPCP / VMCP and tighten both fixing screws using the hexagonal key supplied.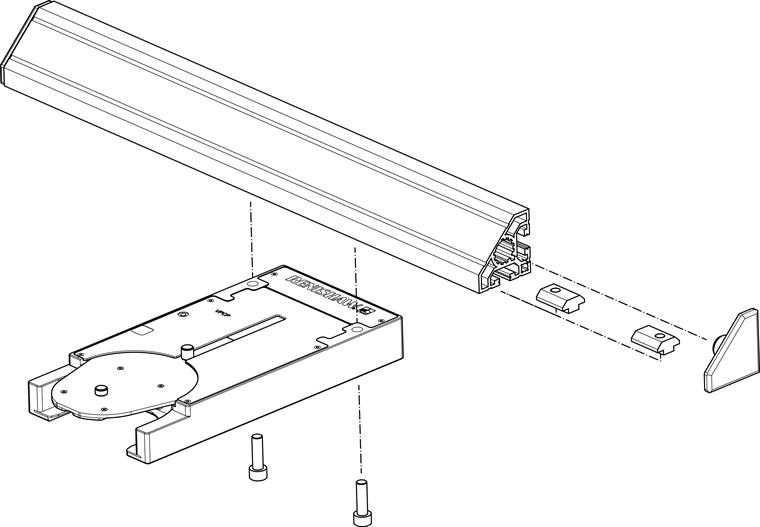 NOTE:  The image above shows the VPCP change port but the procedure is the same for the VMCP change port.
* NOTE:  T-nuts must be used with the MRS system.  However T-nuts and D-nuts are compatible with the MRS2 system.
Fixing VA10 calibration artefact to CMM
The VA10 calibration artefact is designed to be fixed securely to the bed of the CMM to allow accurate and repeatable calibration of the RVP system components.  The diagrams below show how to fix the VA10 to the bed of the CMM.
Locate an appropriate threaded hole in the bed of the machine.
Position the artefact plate above the threaded hole.
Screw the correct size adaptor stud through the hole into the threaded hole on the machine.
Tighten with S spanner supplied.
Screw the artefact top component to the adaptor stud.
Tighten with S spanner supplied.