System components overview
| Key | Description | Part number |
| --- | --- | --- |
| 1 | REVO-2 head | A-5759-0001 |
| 2 | RVP vision probe | A-5378-0080 |
| 3 | VM10 vision module | A-5378-0082 |
| 4 | VM11 vision module | A-5378-0087 |
| 5 | VPCP probe change port | A-5378-0081 |
| 6 | VMCP module change port | A-5378-0083 |
| 7 | VA10 calibration artefact | A-5378-0085 |
RVP probe
RVP is the probe component of the system that houses the sensor and digital signal processor.  There are currently two vision modules that attach to the probe body that enable the inspection of a range of size and shape features.
The RVP component of the system is automatically interchangeable with other probe options using the VPCP heated change port that can be fixed to the MRS rack system.
Vision modules
The RVP system features two interchangeable vision modules (VM10 and VM11) which are both tailored to provide inspection capability for different applications.  The vision modules attach to the probe body using the same style kinematic mount utilised by all the current REVO probes.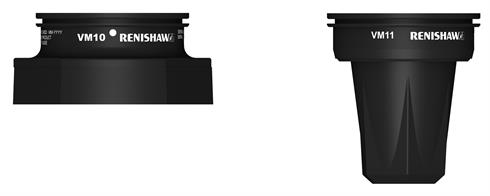 VM10 has a wider field of view allowing larger features to be inspected and VM11 has a greater stand-off distance which improves accessibility when inspecting complex parts with hard to reach features.
VA10 calibration artefact
The VA10 is a dedicated calibration artefact used to calibrate the target feature size and stand-off distance of the RVP system when using a VM10 or VM11.  The calibration routine for RVP is fully automated through MODUS and UCCsuite.
VPCP and VMCP change ports
There are two new change ports that can be mounted to an MRS rack system to allow the automated changing of all the RVP probe and module components.
The VPCP change port is used to change and house the RVP probe body on the machines rack system.  The VMCP change port changes and houses the vision module components of the RVP system.  Both rack ports are temperature controlled to ensure that the housed components are at the correct and most efficient operating temperature.