PH10 Adjustment Modules
Both modules enable adjustment in pitch, roll and yaw and allow accurate alignment with machine quill or workpiece.
AM1 Adjustment Module
The AM1 adjustment module shown below is designed for use on the PH10T and PH10M. It has a quick release mechanism thus allowing for rapid head exchange, and features inbuilt overtravel protection. For further information on the AM1, please refer to the AM1 user's guide (Renishaw part number H-1000-4010).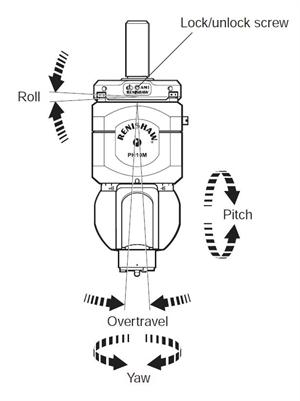 AM2 Adjustment Module
The AM2 adjustment module shown below is designed for use with the PH10MQ. For further information on the AM2, please refer to the AM2 product information sheet (Renishaw part number H-1000-2051)