PH10 Connection of Probes and Extensions
PH10T - M8 connection

The PH10T is designed to carry Renishaw probes and extensions with an M8 screw thread.
Probes and extensions are screwed into the probe head's bush and tightened with the appropriate spanner.
CAUTION: Never use anything other than the Renishaw spanner provided and do not apply excessive force.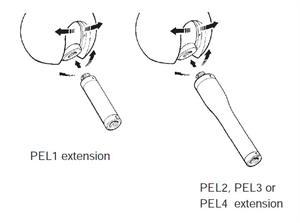 PH10M and PH10MQ - Autojoint connection
PH10M and PH10MQ heads use a Renishaw autojoint which is a highly repeatable kinematic joint, one half is integral to the head. The other half forms part of the adaptor, extension bar or probe.
Locking and unlocking the autojoint is carried out either manually, using the autojoint key, or automatically using the Renishaw autochange rack systems (ACR1 or ACR3). In both cases, the connection's repeatability eliminates the need for probe requalification after exchange.