PHC10-3 Probe Head Controller
The PH10 heads must be used in conjunction with either the PHC10-3 controller or the UCC (universal CMM controller).
The PHC10-3 incorporates an integral power supply for the head, manages all head functions and communicates via a suitable interface with the CMM computer. A separate probe interface is required for probe signal conditioning when using the PHC10-3.
If using the UCC, the PHC1050 daughtercard takes its power from the host unit.

Powering the PHC10-3
The PH10-3 head controller is to be used with the provided PSU - (Emerson DP4024N3M AC power adptor).  www.emerson.com This is a 24 V DC 49W supply and is conected to the PHC10-3 via Ø5.5 mm dc jack plug.
PHC10-3 does not does require a protective earth, however an equipotential bonding point is provided on the rear panel for connection to the rest of the installation.
PHC10-3 controller is rated to opperate at +24V d.c. 1A max input current
If an internal interface is fitted with the PHC10-3 it will obtain its power internally from the PHC10-3 controller.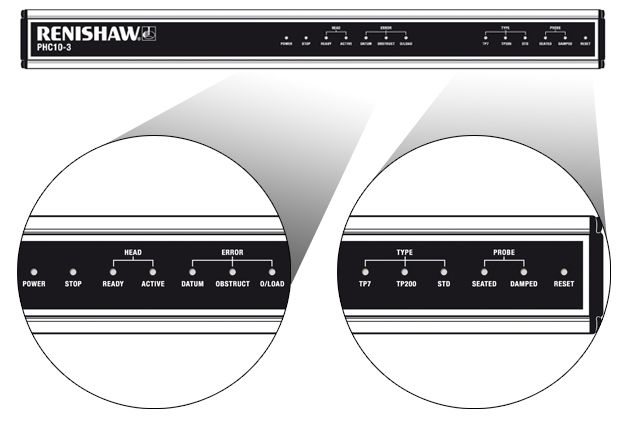 PHC10-3 LED names, colours and functions
Name

Colour

Function

POWER

Green

Power ON when lit

STOP

Red

PHC10-3 asserting PICS STOP when lit
PI200 asserting PICS STOP when flashing

HEAD READY

Green

Head ready for use when lit

HEAD ACTIVE

Yellow

Head indexing when lit

DATUM ERROR

Red

Head datum error when lit

OBSTRUCT ERROR

Red

Head obstruct error when lit

OVERLOAD ERROR

Red

Head overload error when lit

TP7

Green

TP7 detected when lit 

TP200

Green

TP200 detected when lit

STD

Green

TP2 / TP20 / TP6 detected when lit  

SEATED

Green

Probe seated when lit

DAMPED

Yellow

Probe damped when lit
Rear panel layout

| | |
| --- | --- |
| Key | Description |
| 1 | 9-way D-type plug for PICS output |
| 2 | 9-way D-type connector to HCU1 |
| 3 | 25-way D-type plug RS232 communications connector to CMM computer |
| 4 | USB type "B" socket |
| 5 | PHC10-3 Configuration switches |
| 6 | 15-way D-type connector to probe head |
| 7 | 7-pin DIN raw probe connector to probe interface or multiwire input for internal interfaces |
| 8 | DC Power jack |
| 9 | Equipment bond point |
Refer to PHC10-3 Installation Guide (H-1000-7543) for further detail regarding PHC10-3 and its installation and operation.