SFM-A2 surface finish module
Enhanced access and inspection capability for integrated surface finish measurement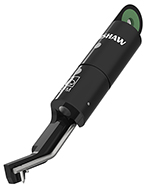 Features
The A-series of modules is designed to deliver high performance with a good level of capability to access part features. The cranked skid arm design of the A2 module provides additional clearance around part features.
Typical applications
General purpose; engine block gasket face, lateral scanning of crank shaft bearing journals.
---
Diamond tip radius (μm)

2 or 5

Surface finish measurement range (μm)

2 μm modules

5 μm modules




6.3 to 0.05 Ra

6.3 to 0.10 Ra

Typical surface finish accuracy (of nominal Ra) *

±(5% + 15 nm)

Skid / stylus arrangement

Side-by-side

Skid material

DLC coated stainless steel

Nominal stylus tip protrusion beyond skid (mm)

0.5

Skid length / radius (mm)

4 / 40

Skid width / radius (mm)

2 / 12.5

Skid contact force (N)

0.2

Stylus contact force (N)

0.003

SFM / SFH knuckle adjustment range

±90°

Weight (g)

12

Resolution (nm)

1

Measurement speed (mm/s)

Up to 1

Stylus holder compatibility

SFH-1, SFH-2

Lateral scanning capability

Yes
---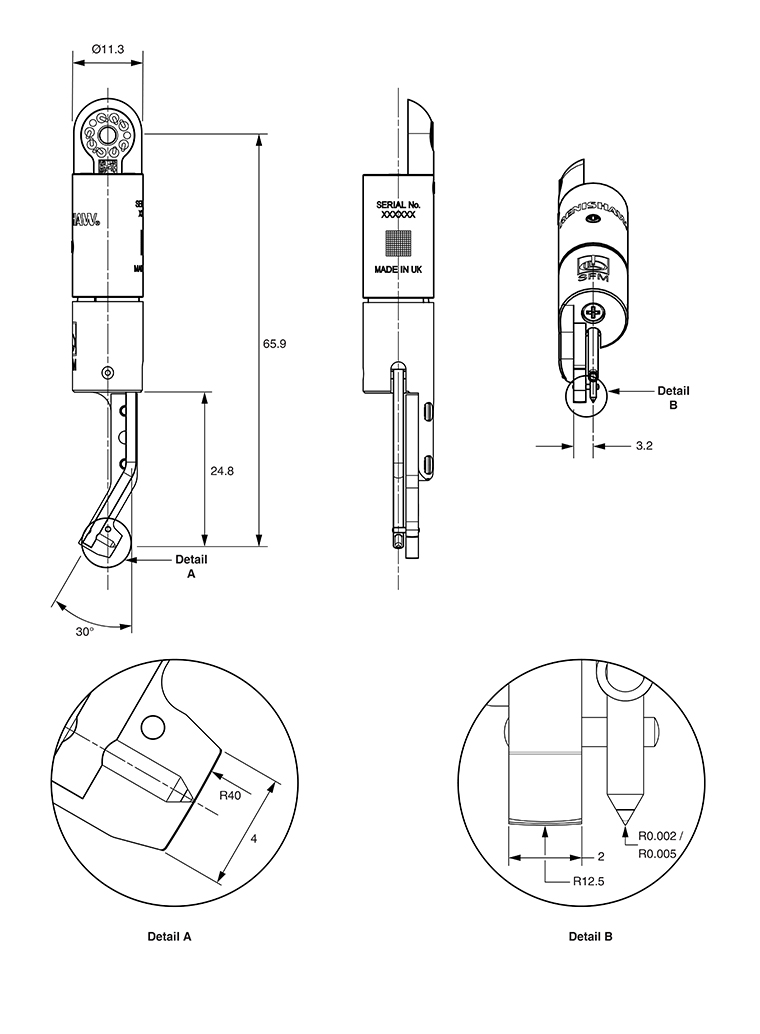 ---
| | |
| --- | --- |
| | Part number |
| REVO SFP2 kits | |
| SFP2 combi kit #1 (A1 and A2 modules, single artefact) | A-5764-0001 |
| SFP2 combi kit #2 (single artefact, no modules) | A-5764-0002 |
| SFP2 combi kit #3 (A1 and A2 modules, triple artefact) | A-5764-0003 |
| SFP2 combi kit #4 (triple artefact, no modules) | A-5764-0004 |
| Single artefact kit (SFA1 and single artefact holding kit) | A-5764-0072 |
| Triple artefact kit (SFA1, 2, 3 and triple artefact holding kit) | A-5764-0073 |
| SFP2 probe and modules | |
| SFM-A1 2 µm general purpose straight module (type A skid) | A1-D-02C90D |
| SFM-A1 5 µm general purpose straight module (type A skid) | A1-D-05C90D |
| SFM-A2 2 µm general purpose cranked module (type A skid) | A2-D-02C90D |
| SFM-A2 5 µm general purpose cranked module (type A skid) | A2-D-05C90D |
| SFM-B1 2 µm straight module with smaller skid for short lands (type B skid) | B1-D-02C90D |
| SFM-B1 5 µm straight module with smaller skid for short lands (type B skid) | B1-D-05C90D |
| SFM-B2 2 µm cranked module with smaller skid for short lands (type B skid) | B2-D-02C90D |
| SFM-B2 5 µm cranked module with smaller skid for short lands (type B skid) | B2-D-05C90D |
| SFM-B3 5 µm 90° module with smaller skid for pockets and grooves (type B skid) | B3-D-05C90D |
| SFM-B4 5 µm cranked module with smaller skid for reach into confined areas (type B skid) | B4-D-05C90D |
| SFM-B5 5 µm cranked module with smaller skid for reach into undercuts and grooves (type B skid) | B5-D-05C90D |
| SFM-C3 2 µm straight module for small bores (type C skid) | C3-D-02C90D |
| SFM-C3 5 µm straight module for small bores (type C skid) | C3-D-05C90D |
| SFM-D1 2 µm 90° module for extra reach (type D skid) | D1-D-02C90D |
| SFM-D1 5 µm 90° module for extra reach (type D skid) | D1-D-05C90D |
| SFM-E1 2 µm long straight module with 2-part skid (type E skid) | E1-D-02C90D |
| SFM-E1 5 µm long straight module with 2-part skid (type E skid) | E1-D-05C90D |
| SFM-E2 5 µm long straight module with 2-part skid (type E skid) | E2-D-05C90D |
| SFM-G1 Grooved engine bores prepared for PTWA coating (type G skid) | G1-D-10C30C |
| SFM-H1 automatic transmission valve bodies, minimum feature access (mm): Ø9 × 122 (max. depth) (type H skid) | H1-D-02C90D |
| SFM-H1 5 µm automatic transmission valve bodies, minimum feature access (mm): 9 122 (max. depth) (type H skid) | H1-D-05C90D |
| Accessories | |
| SFH-1 surface finish module holder | A-5764-0080 |
| SFH-2 surface finish module holder | A-5764-0081 |
| SFA1 3.0 SIN artefact (SFA1 plate with UKAS certificate) | A-5764-0060 |
| SFA2 0.5 SIN artefact (SFA2 plate with UKAS certificate) | A-5764-0061 |
| SFA3 0.4 ST artefact (SFA3 plate with UKAS certificate) | A-5764-0062 |
| OFA optical flat artefact (* special product) | A-5764-3142 |
| Single artefact holder mounting kit. Contains: SFAH-1 single plate holder, rack adaptor, leg adaptor, fixings for all options, tools | A-5764-0070 |
| Triple artefact holder mounting kit. Contains: SFAH-2 triple plate holder, rack adaptor, leg adaptor, fixings for all options, tools | A-5764-0071 |
| TFP tip find probe kit (including TP20 LF mod, stylus, PL24 cable) | A-5764-0063 |
| MST module setting tool | A-5764-0091 |
| System storage box | A-5764-0090 |
---