SFM-C3 surface finish module
Enhanced access and inspection capability for integrated surface finish measurement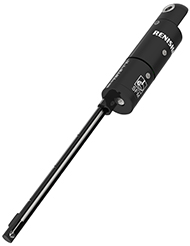 Features
The C-series of modules have the ability to locate the stylus in small diameter bores. The skid and stylus are inline so that both travel along the axis of the bore.
The SFM-C3 is a replacement for SFM-C2, offering more stylus range and increased robustness without any degradation in performance.
Typical applications
Automotive engine valve guide ways.
NOTE: Not compatible with SFH-2.
---
Diamond tip radius (μm)

2 or 5

Surface finish measurement range (μm)

2 μm modules

5 μm modules




6.3 to 0.05 Ra

6.3 to 0.10 Ra

Typical surface finish accuracy (of nominal Ra) *

±(10% + 35 nm)

Skid / stylus arrangement

In-line (stylus lagging skid)

Skid material

DLC coated stainless steel

Nominal stylus tip protrusion beyond skid (mm)

0.5

Minimum feature access (mm)

Ø5 × 50

Skid length / radius (mm)

4.4 / 40

Skid width / radius (mm)

3.3 / 2

Skid contact force (N)

0.15

Stylus contact force (N)

0.003

SFM / SFH knuckle adjustment range

±90°

Weight (g)

12

Resolution (nm)

1

Measurement speed (mm/s)

Up to 1

Stylus holder compatibility

SFH-1 only

Lateral scanning capability

No
---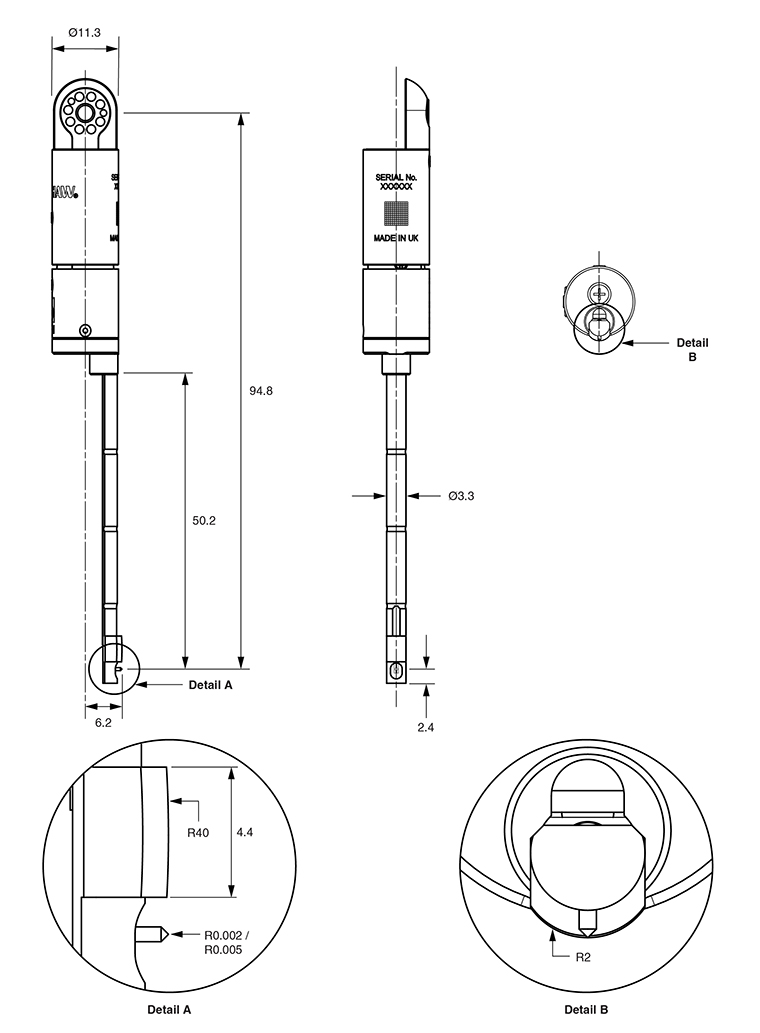 ---
| | |
| --- | --- |
| | Part number |
| REVO SFP2 kits | |
| SFP2 combi kit #1 (A1 and A2 modules, single artefact) | A-5764-0001 |
| SFP2 combi kit #2 (single artefact, no modules) | A-5764-0002 |
| SFP2 combi kit #3 (A1 and A2 modules, triple artefact) | A-5764-0003 |
| SFP2 combi kit #4 (triple artefact, no modules) | A-5764-0004 |
| Single artefact kit (SFA1 and single artefact holding kit) | A-5764-0072 |
| Triple artefact kit (SFA1, 2, 3 and triple artefact holding kit) | A-5764-0073 |
| SFP2 probe and modules | |
| SFM-A1 2 µm general purpose straight module (type A skid) | A1-D-02C90D |
| SFM-A1 5 µm general purpose straight module (type A skid) | A1-D-05C90D |
| SFM-A2 2 µm general purpose cranked module (type A skid) | A2-D-02C90D |
| SFM-A2 5 µm general purpose cranked module (type A skid) | A2-D-05C90D |
| SFM-B1 2 µm straight module with smaller skid for short lands (type B skid) | B1-D-02C90D |
| SFM-B1 5 µm straight module with smaller skid for short lands (type B skid) | B1-D-05C90D |
| SFM-B2 2 µm cranked module with smaller skid for short lands (type B skid) | B2-D-02C90D |
| SFM-B2 5 µm cranked module with smaller skid for short lands (type B skid) | B2-D-05C90D |
| SFM-B3 5 µm 90° module with smaller skid for pockets and grooves (type B skid) | B3-D-05C90D |
| SFM-B4 5 µm cranked module with smaller skid for reach into confined areas (type B skid) | B4-D-05C90D |
| SFM-B5 5 µm cranked module with smaller skid for reach into undercuts and grooves (type B skid) | B5-D-05C90D |
| SFM-C3 2 µm straight module for small bores (type C skid) | C3-D-02C90D |
| SFM-C3 5 µm straight module for small bores (type C skid) | C3-D-05C90D |
| SFM-D1 2 µm 90° module for extra reach (type D skid) | D1-D-02C90D |
| SFM-D1 5 µm 90° module for extra reach (type D skid) | D1-D-05C90D |
| SFM-E1 2 µm long straight module with 2-part skid (type E skid) | E1-D-02C90D |
| SFM-E1 5 µm long straight module with 2-part skid (type E skid) | E1-D-05C90D |
| SFM-E2 5 µm long straight module with 2-part skid (type E skid) | E2-D-05C90D |
| SFM-G1 Grooved engine bores prepared for PTWA coating (type G skid) | G1-D-10C30C |
| SFM-H1 automatic transmission valve bodies, minimum feature access (mm): Ø9 × 122 (max. depth) (type H skid) | H1-D-02C90D |
| SFM-H1 5 µm automatic transmission valve bodies, minimum feature access (mm): 9 122 (max. depth) (type H skid) | H1-D-05C90D |
| Accessories | |
| SFH-1 surface finish module holder | A-5764-0080 |
| SFH-2 surface finish module holder | A-5764-0081 |
| SFA1 3.0 SIN artefact (SFA1 plate with UKAS certificate) | A-5764-0060 |
| SFA2 0.5 SIN artefact (SFA2 plate with UKAS certificate) | A-5764-0061 |
| SFA3 0.4 ST artefact (SFA3 plate with UKAS certificate) | A-5764-0062 |
| OFA optical flat artefact (* special product) | A-5764-3142 |
| Single artefact holder mounting kit. Contains: SFAH-1 single plate holder, rack adaptor, leg adaptor, fixings for all options, tools | A-5764-0070 |
| Triple artefact holder mounting kit. Contains: SFAH-2 triple plate holder, rack adaptor, leg adaptor, fixings for all options, tools | A-5764-0071 |
| TFP tip find probe kit (including TP20 LF mod, stylus, PL24 cable) | A-5764-0063 |
| MST module setting tool | A-5764-0091 |
| System storage box | A-5764-0090 |
---