UCC dynamic mapping tool
The UCC dynamic mapping tool (DMT) enables laser error mapping to be run dynamically on a CMM
This speeds up the process of data gathering and allows more data to be collected, ultimately giving a higher quality error map in a shorter time.
The UCC dynamic mapping kit contains:

| UCC dynamic mapping tool | 'Y' adaptor cable | 5 m USB cable |
| --- | --- | --- |
| | | |
'Y' adaptor and the micro USB cable connect to the DMT as below: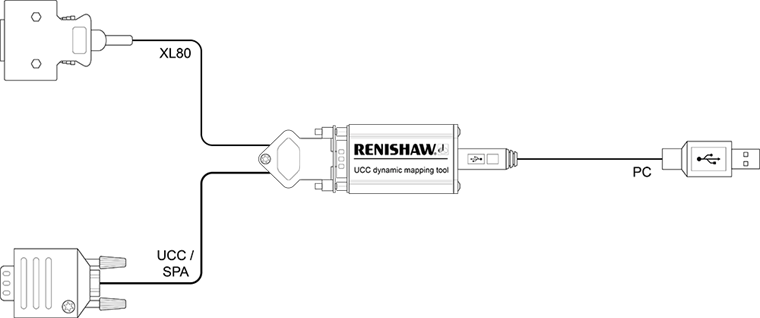 The DMT can only be used from UCCsuite 5.1 or later
The DMT is compatible with the XL80 only
The DMT allows UCCassist-2 to simultaneously record the scale positions of the CMM and the feedback of the XL-80. When the DMT is connected to the PC during the setup process in UCCassist-2, parameters to allow the user to specify the motion of the CMM during the data capture are enabled as below. These settings can be adjusted from default to suit the CMM.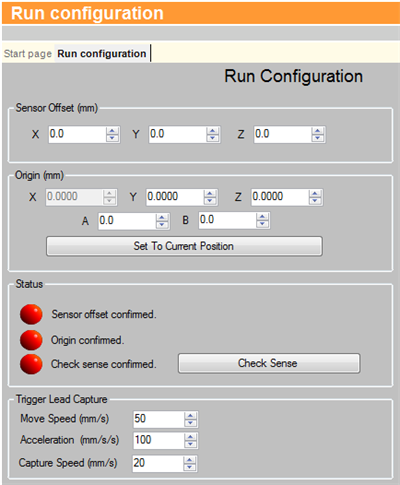 The DMT can be used for any mapping data collection run where the XL-80 is used. It does not work with straightness mapping with a straight edge, or data collection using Wyler gauges.
---
| Description | Part number |
| --- | --- |
| UCC dynamic mapping tool kit (DMT) | A-6256-0100 |
| UCC dynamic mapping tool kit (DMT) RBE | A-6256-0100-RBE |
| UCC dynamic mapping tool Y cable | A-5567-0065 |
| USB A to USB B cable (5 m) | P-CA81-0015 |
---