3D fixture modelling software
Renishaw's FixtureBuilder is a 3D fixture modelling software for creating fixturing set-ups. It offers the 'Build it' feature to generate work instructions and support off-line programming for CMM, Equator™ gauging, and vision inspection.
Introducing FixtureBuilder 8.1
Our new 3D-modelling software service, offers a rolling 12-month subscription, allowing you to benefit from new features.
Why Renishaw FixtureBuilder software?
Renishaw's FixtureBuilder is a user-friendly software, for creating fixtures which can be integrated with inspection software. By being able to create a fixture vitually, the user can create a fixture set-up before workpieces have even met production. Second to this the 'Build it' functionality creates a simple set of work instructions to ensure anyone can easily recreate the fixture, ensuring the fixture is reliable and repeatable. Users have access to the full catalogue of Renishaw metrology fixturing components when designing and documenting their modular fixturing set-ups.
This software can be used with a CAD model of the inspected workpiece, which is imported into FixtureBuilder, so that the fixture can be built around it. The entire set-up, along with the inspected workpiece, can then be exported into inspection programming software. FixtureBuilder supports most CAD formats including IGES, SAT and STEP.
FixtureBuilder offers a wide range of customer benefits, derived from Renishaw's outstanding understanding of metrology best practice and workpiece inspection.
New subscription service
Customers can now take advantage of a complimentary 12-month subscription to this highly accessible fixture-planning software, when they purchase qualifying metrology fixturing products or bundles. Please contact your local Renishaw representative for more information.
Remember our modular and custom fixturing can improve the throughput, reproducibility and accuracy of your inspection process with quick and repeatable fixturing set-ups. Renishaw fixtures can provide a complete solution to your fixturing requirements.
Training and support
If you need any help with activating your subscription, head over to our training and support page. Here you will find our series of training videos, for a step-by-step guide from one of our fixturing experts. The training videos explain the main, easy to use functions within FixtureBuilder and how best to use the 3D modelling software.
FixtureBuilder product family
Our 3D-modelling software is a user-friendly fixturing software, intergrated with inspection software to create fixture set-ups before workpieces have even met production. Head over to our 3D modelling product family, to view our subscriptions, perpetual licenses and more.
Watch our FixtureBuilder video to learn more about our software.
Ease of use
Clear and well organised libraries
All standard base plates and fixturing components are conveniently organised into tabbed catalogues, grouped by component category and thread size.
Intelligent 'drag and drop' functionality
Simply drag and drop the components onto a plate or another component. The SmartSnap®* technology automatically aligns them while indicating the mating hole X, Y and Z co-ordinates.
Quickest way to manipulate parts
The TriBall®* feature allows FixtureBuilder software users to move workpieces independently in the 3D workspace.
Easy-to-use constraint mechanism
The easy-to-use constraint function allows the inspected workpiece to be accurately located on the fixture. The choice of available constraint modes includes align, mate, concentric, tangent, etc.
*SmartSnap®, TriBall® are registered trademarks of IronCAD.
Flexibility
Compatibility with 3D CAD
FixtureBuilder offers the ability to import and export most common 3D CAD files (Parasolid, Step, ACIS, STL, IGES, etc.).
Meet the quality standards
Improve your compliance with quality standards. The 'Build it' function is one of the key benefits available to all FixtureBuilder software users. It produces a complete bill of materials and work instructions for every fixture set-up and ensures seamless functionality and compatibility with industry-standard inspection programs.
Custom libraries
Users can create fixturing set-ups and custom plates which can be stored in user-defined libraries for further reference.
QuickLoad rail support
Design inspection fixtures for workpieces mounted on multiple plates, attached to the rapid, easy and repeatable QuickLoad rail system.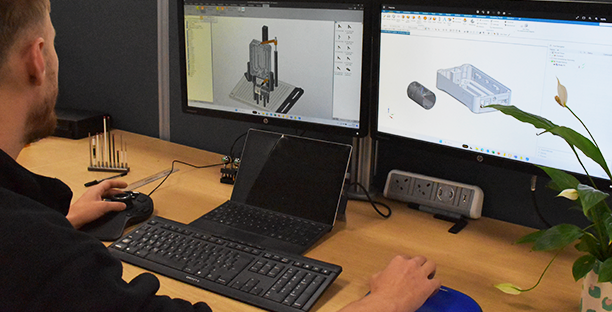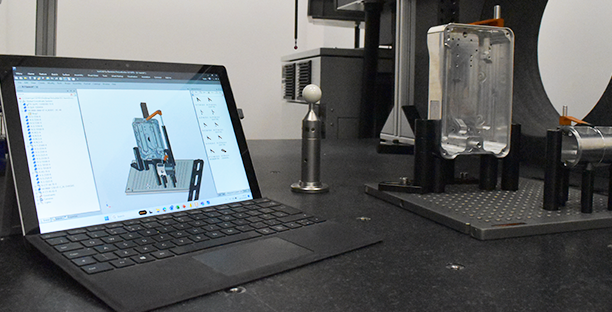 Contact our sales team today
Get in contact with your local office to find out more information and speak to an expert.