ATOM™ diagnostic kit
The ATOM diagnostic kit is available to assist challenging installations and aid system optimisation by reporting system performance and remote signal monitoring.
What is the ATOM diagnostic kit?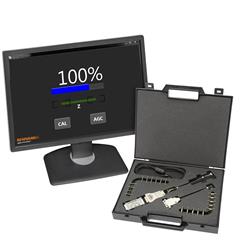 ATOM linear and rotary (angle) encoder systems feature an integral set-up LED that is usually sufficient for installation purposes. Customers with the most challenging set-up requirements are now supported by an optional ATOM diagnostic kit to aid installation and system optimisation by reporting system performance and remote signal monitoring from their PC. The kit consists of a diagnostic software package and a diagnostic hardware kit delivered in a convenient carry-case. The diagnostic kit enables the user to view the signal amplitude and confirm that the reference mark is phased correctly. An audible indication of signal amplitude can also be output in cases where the software is obstructed during readhead adjustment. The user can also remotely calibrate the system and toggle the AGC (Auto Gain Control) status.
Why use this diagnostic kit to help set-up my readhead?
The ATOM diagnostic kit is optional for setting up an ATOM readhead as the integral set-up LED shows a visual indication of optimum set-up. This method of installation is sufficient for the majority of ATOM installations. However, there are some challenging installation scenarios, such as those listed below, where additional support is needed:
When the readhead is buried deep in the machine and/or it is not possible to see the readhead set-up LED
To confirm if the readhead has been calibrated and the reference mark is phased
When using an ATOM encoder with a D-type connector that does not have a CAL button
When it is necessary to confirm that the rideheight has been properly adjusted along the full length of travel or disc rotation

How do I get the ATOM diagnostic kit?

The diagnostic software can be downloaded below and the diagnostic hardware can be ordered through Renishaw using part number A-9411-0011. Please note that the software will only work when the ATOM readhead is connected through the diagnostic hardware to your PC – you cannot use the software on its own.

Features and benefits
Real-time remote monitoring to aid readhead adjustment
Visual and audible indication of signal size
Simple remote reference mark phasing
Quick remote calibration of the incremental signals
AGC (Auto Gain Control) can be toggled by a click of a button
The hardware is powered via the USB cable (supplied in the kit) or in-line with the customers' electronics

Minimum system requirements
Microsoft® Windows® 8, Windows 7 or Windows XP
Microsoft.NET Framework 4.0 Full
USB port
Internet connection for software download
Can I use this diagnostic kit for other Renishaw encoders?
The hardware (A-9411-0011) can also be used in conjunction with the TONiC™ diagnostic software to aid installation of TONiC systems.
| | | | | |
| --- | --- | --- | --- | --- |
| Software | Download version | Compatible encoder system | Diagnostic tool | Download link |
| ATOM diagnostic software | 1.0 | ATOM | ATOM diagnostic kit | Download now |
User guide