Can you build AM parts without supports?
Summary
Too often 'design for AM' is about finding ways to build products that really haven't been designed for AM at all. Heavy reliance on 3DP supports is a sign of insufficient up-front thinking about how a component is to be made. Applying 3DP supports as an afterthought means that a crucial stage of the design process is not fully under control, and that part quality may be compromised.
With sufficient thought applied in the design phase, it is often possible to avoid such wasteful behaviour. Modern design tools support the creation of efficient structures, but intelligent design thinking is still needed to make the shapes that they create easy and efficient to build. Where design constraints make the self-supporting ideal unobtainable, we can still design sacrificial structures that maximise the efficiency of our designs.
About the author
Marc Saunders, Director of AM Applications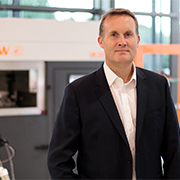 Marc Saunders has over 25 years' experience in high tech manufacturing. In previous positions at Renishaw, he played a key role in developing the company award-winning RAMTIC automated machining platform, and has also delivered turnkey metrology solutions to customers in the aerospace sector.
Marc manages Renishaw's global network of Additive Manufacturing Solutions Centres, enabling customers who are considering deploying AM as a production process to gain hands-on experience with the technology before committing to a new facility.