DfAM essentials - print parts efficiently and effectively
Summary
Additive manufacturing (AM) gives us huge freedom to design parts differently, but we do need to be aware of some of the characteristics and limitations of the process, so that we create parts that can be built successfully.
Modern design and build preparation software helps enormously to find an optimum design, orientation and support strategy so that we can produce consistent parts economically.
The feature article details DfAM essentials:
How to print parts efficiently and effectively including feature size, surface finish, overhangs, lateral holes and minimising supports
Residual stress and distortion.

About the author
Marc Saunders, Director of AM Applications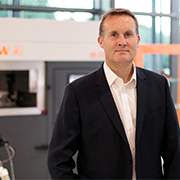 Marc Saunders has over 25 years' experience in high tech manufacturing. In previous positions at Renishaw, he played a key role in developing the company award-winning RAMTIC automated machining platform, and has also delivered turnkey metrology solutions to customers in the aerospace sector.
Marc manages Renishaw's global network of Additive Manufacturing Solutions Centres, enabling customers who are considering deploying AM as a production process to gain hands-on experience with the technology before committing to a new facility.