DfAM strategy - create 'design space' for maximum AM impact
Summary
AM really is a field where you get out what you put in. If you are able to give yourself the design space to think and work at a system level, then you can deploy more AM capabilities to create remarkably efficient and capable products.
DfAM optimised parts will be lighter, higher performing, faster to build and therefore more cost-effective than direct replacements or adapted designs. If you fully embrace the capabilities of AM, then you can develop products with market-leading performance and a compelling business case.
About the author
Marc Saunders, Director of AM Applications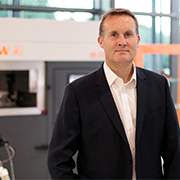 Marc Saunders has over 25 years' experience in high tech manufacturing. In previous positions at Renishaw, he played a key role in developing the company award-winning RAMTIC automated machining platform, and has also delivered turnkey metrology solutions to customers in the aerospace sector.
Marc manages Renishaw's global network of Additive Manufacturing Solutions Centres, enabling customers who are considering deploying AM as a production process to gain hands-on experience with the technology before committing to a new facility.