Is topological optimisation really optimal?
Summary
Light-weight, efficient product design is one of the key drivers behind the increasing adoption of additive manufacturing (AM) for series production. AM supports a range of light-weighting approaches including generative design techniques such as topological optimisation. These iterative methods explore many possible design solutions and result in components with organic forms that mimic efficient natural structures.
The feature article includes:
Topological optimisation basics
Sub-optimal optimisation
Intelligent design optimisation
A comparison of AM design solutions including finite element analysis (FEA)
About the author
Marc Saunders, Director of AM Applications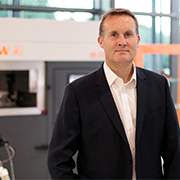 Marc Saunders has over 25 years' experience in high tech manufacturing. In previous positions at Renishaw, he played a key role in developing the company award-winning RAMTIC automated machining platform, and has also delivered turnkey metrology solutions to customers in the aerospace sector.
Marc manages Renishaw's global network of Additive Manufacturing Solutions Centres, enabling customers who are considering deploying AM as a production process to gain hands-on experience with the technology before committing to a new facility.