Modulation matters - how to build all features great and small
Summary
Additive manufacturing (AM) gives us the freedom to build a vast range of part geometries, consolidating multiple conventional parts into a complex whole. Multi-functional AM parts often combine the structural with the intricate, mixing relatively bulky geometries with fine details. Building such parts cost-effectively means that our AM process must be both productive and precise.
The feature article details how versatile laser modulation can help to match the mode of energy delivery to the needs of component features of all sizes.
About the author
Marc Saunders, Director of AM Applications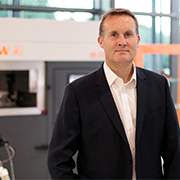 Marc Saunders has over 25 years' experience in high tech manufacturing. In previous positions at Renishaw, he played a key role in developing the company award-winning RAMTIC automated machining platform, and has also delivered turnkey metrology solutions to customers in the aerospace sector.
Marc manages Renishaw's global network of Additive Manufacturing Solutions Centres, enabling customers who are considering deploying AM as a production process to gain hands-on experience with the technology before committing to a new facility.