New state of the art air bearing gantry system features Renishaw's high-performance incremental encoder
Motion system designers usually face a compromise between speed and accuracy, yet Steinmeyer-FMD's new precision, multi-axis air bearing gantry system overcomes this dilemma with the help of Renishaw's high-performance TONiC™ optical incremental encoder.
Precision engineering and precision optics company, Steinmeyer-FMD, has introduced its new air bearing linear axis and gantry system which is designed for applications requiring ultra-high precision and outstanding dynamic performance. The application portfolio is extensive and includes laser machines, dispensing systems, inspection systems, 'pick and place' machines and gene chip production equipment.
Steinmeyer-FMD's new motion system consists of an XY stage utilising air bearings plus a conventional ball screw driven Z table, with the TONiC optical linear encoder providing incremental position feedback on all the linear axes. The motor concept is based on a wear-and-noise-less drive operating at very high speeds. Depending on the application, the XYZ design can be complemented with A- and B-axes and adapted to the required load, speed and accuracy.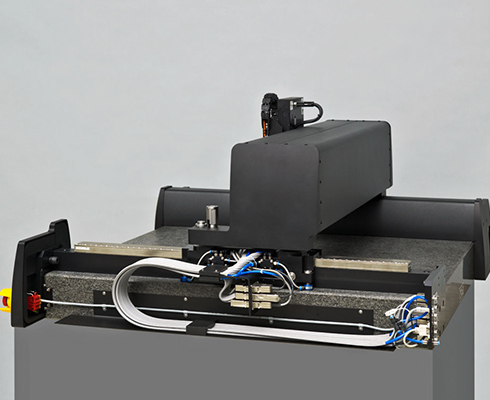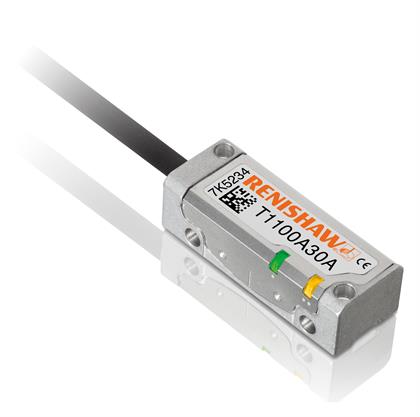 Smooth velocity control is achieved as the TONiC encoder incorporates dynamic signal processing within the readhead, providing an ultra-low Sub-Divisional Error (SDE) for improved signal purity. The reduced jitter, of just 0.5 nm RMS, and finer resolution, result in an encoder that provides significantly improved positional stability and excellent low-speed velocity control. Long-term operational reliability is further assured with the TONiC encoder's proven filtering optics, which are now enhanced by Auto Gain Control (AGC) for rugged signals that can withstand dust, scratches and light oils on the scale.
The super-compact TONiC encoder is also available with a variety of high-accuracy linear and rotary scales, and new 1 nm and 2 nm resolution versions have recently been added to the range. TONiC incremental encoders offer all the benefits of a 20 micron pitch encoder, such as easy set-up, low cost of ownership and superior dirt immunity, yet they also rival the resolution and noise levels of much finer pitch encoders.
The new Steinmeyer-FMD stages are considered as 'custom solutions' and optimised with regard to the required conditions. XY specifications include: travel to 600 mm x 600 mm, positional accuracy to 10 microns, positioning repeatability of ±1 micron, plus straightness and flatness of 1 micron over the full travel range. Both X and Y stages are driven by ironless, electrodynamic linear motors with maximum acceleration of 10 m/s2 and XY velocity of 1000 mm/s. Position feedback from the TONiC incremental encoder has a resolution of 50 nm on the XY stage and a positional accuracy of 10 microns on the Z axis.
The Steinmeyer group is comprised of two manufacturing divisions located in Germany. August Steinmeyer GmbH & Co. KG (located in Albstadt) has been setting standards for high precision ball screws for over 40 years and prides itself on high quality, innovative designs to meet demanding customer requirements. The Feinmess Dresden (FMD) division has been producing an extensive line of high precision positioning systems for well over 130 years.
As with all Renishaw encoders, TONiC incremental encoders are backed by a truly responsive global sales and support network. Furthermore the product satisfies the highest environmental standards, with both WEEE and RoHS compliance.