Precision engineered styli
Renishaw supplies precision-engineered styli for all major probing systems. Learn the importance of why selecting a genuine Renishaw stylus enhances your probe's performance.
Precision starts with the stylus
Choosing the right stylus to ensure excellent measurement performance is critical.
Think about it this way: purchasing a luxurious sports car and fitting it with low-quality tyres wouldn't make sense. Similarly, investing in high-quality Renishaw probing only to use it with an inferior stylus is counterproductive.
The stylus is the crucial initial connection to the workpiece. It is vital that it provides unmatched accuracy at the point of contact.
Our styli are carefully designed to complement Renishaw probes, ensuring optimal performance. We offer a comprehensive range of precision styli and stylus accessories for use on our CMM, machine tool, scanning probes and Equator™ gauging systems.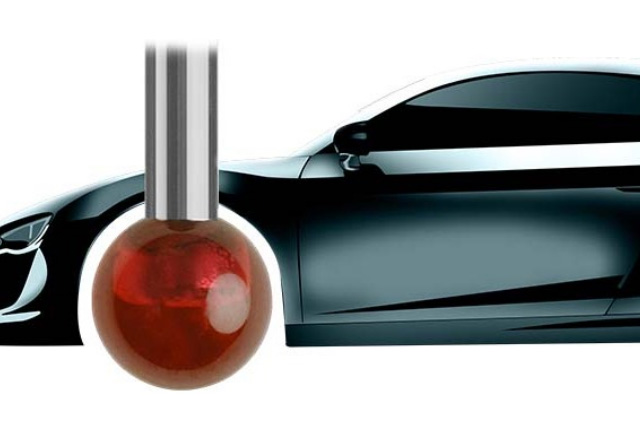 Styli for Renishaw probes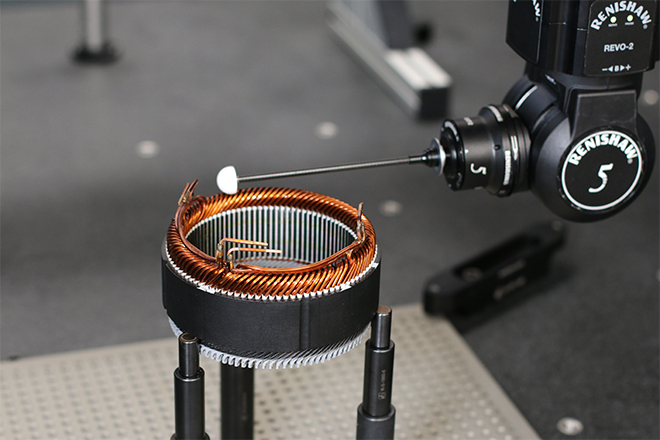 The comprehensive range of genuine Renishaw styli comprises a range of configurations to suit different measurement applications.
Renishaw's stylus stems are produced on CNC machine tools to exacting standards. Great care is taken to ensure that location faces give maximum stiffness whilst stylus mass is optimised to suit Renishaw's range of probes.
The performance of your probe can easily be degraded if you use a stylus with poor ball roundness, poor ball location, bad thread fit or a compromised design that allows excessive bending during measurement. To ensure the integrity of the data you gather, make certain that you specify and use a stylus from the comprehensive range of genuine Renishaw styli.
Buy online
Visit the Online store to select a stylus from our comprehensive range of standard solutions.
Renishaw products for your probing system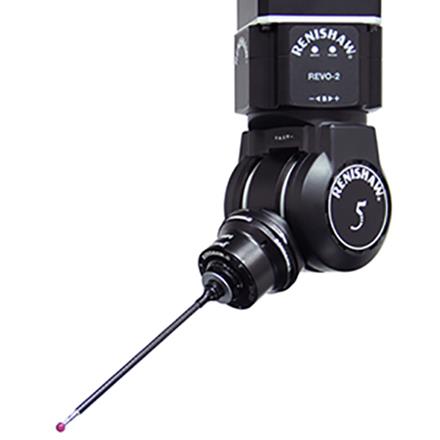 Styli for REVO (RSP2 and RSP3) probes
The RSP2 has a universal body to which several different length stylus holders, with a maximum reach of 500 mm, can be fitted.
Stylus wear is minimised by the low scanning forces that are used.
The UCCserverTM controller manages the type of stylus that can be used, ensuring optimal metrology performance is achieved.
The RSP3 probe can carry cranked stylus arrangements. It can accurately scan measurements with effective stylus lengths ranging from 20 mm to 394 mm.
Styli for OSP60 probes
The ceramic stem on our styli for OSP60 probes is narrow by design to ensure stylus shank contact with the part, before the stylus tip, is minimised.
The ball of each stylus within the OSP60 calibrated range is measured and UKAS certified. This ensures the highest possible measurement accuracy in all measurement conditions.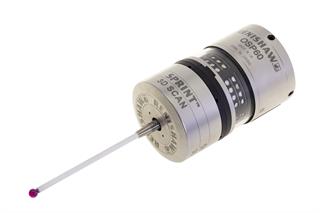 Renishaw has extended its comprehensive styli catalogue with the introduction of a range of precision styli, adaptors and accessories for the ZEISS range of probe heads.
As a supplier of probe systems for selected ZEISS CMMs, Renishaw has increased its range to enable users of all ZEISS machines to benefit from the high precision specifications associated with all Renishaw styli.
The range is compatible with ZEISS analogue probe systems without probe changing, measuring heads with probe changers and dynamic probe heads.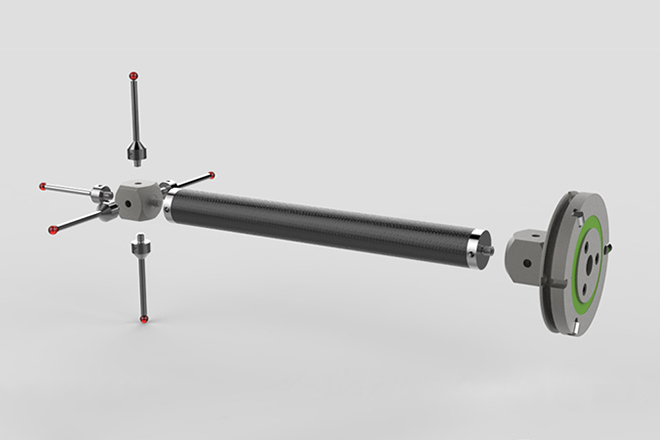 Accessories
Aside from the hundreds of available styli in the ZEISS range, Renishaw also supplies a wide variety of accessories for the ZEISS range of probe heads. This includes styli holders and extensions, knuckles, cubes, adaptors, as well as an assortment of other tools and accessories.
ZEISS Vast XXT adaptor plates and styli
We are pleased to announce the introduction of styli and adaptor plates for the ZEISS Vast XXT scanning sensor. TL1, TL2 and TL3 adaptor plates are available along with a vast selection of M3 styli designed specifically for these plates.
Renishaw styli for FARO® arms
Renishaw has further extended its comprehensive stylus catalogue to include a range of styli, specific for use on the FARO arm probes.
These styli have been designed especially for use on FARO portable arm CMMs and are available in a range of different diameters. Their robust design and construction utilises grade 5 zirconia balls that have a high fracture toughness.
Zirconia is a particularly tough ceramic material with hardness and wear characteristics approaching those of ruby. Its surface properties make it an ideal material for aggressive scanning applications on cast iron components.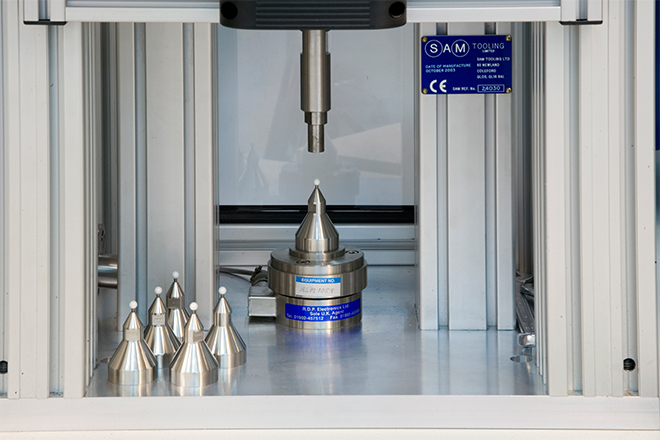 The balls are bonded to the high strength tungsten carbide stem with impact resistant adhesive, and specialist construction techniques have been incorporated to ensure that the joint between the body and stem is extremely rigid and virtually indestructible.
Renishaw styli for FARO probes are available in both 11/4-20 UN and M6 thread sizes.
Accessories
Renishaw also provides a range of different accessories. These include a comprehensive kit, extensions, screws and adaptors, as well as metrology fixturing components and metrology fixture tables.
Precision styli education guide
Discover in our brochure key technical information on selecting and using the correct type, materials, design and calibration.
FAQs
View the frequently asked questions for Renishaw styli.
What is the smallest styli ball diameter we can produce?
0.3 mm as standard, however we have quoted a 0.12 mm ruby ball as a custom design. We have a dedicated custom styli design service, where our experts can develop a product that satisfies customer demand for accuracy, piece part inspection, delivery and cost.
Will changes in temperature effect measurement?
Yes, even minor differences in temperature can cause measurement errors. You can minimise such error by choosing the right material for the stylus stem or extension. When choosing your styli and associated components, you should always give priority to the measuring application. Learn more in our Precision styli guide.
Why do some disc styli have rollers in?
A simple disc styli requires datuming for only one diameter, but this limits effective probing to only x and y directions. Adding a roller allows you to datum and hence probe in the Z direction.
What does EWL mean?
Effective working length. This is measured from the centre of the ball to the point at which the stem will foul against the feature when measuring "normal" to the part.
What is the difference between a grade 5 and grade 3 styli ball?
A styli ball's grade is a rating that describes the precision class of the ball used. Precision classes range from grade 48 (the lowest precision class) to grade 3 (the highest). Renishaw use both grade 3 and grade 5 balls.

Renishaw uses grade 5 (0.13 microns) ruby balls as standard. If, however you are using a high accuracy CMM, you may find that our grade 3 (0.08 microns) ruby balls provide better metrology.
How can I tell if my stylus has a grade 3 ruby ball?
At Renishaw, our high accuracy styli have a titanium nitride coated (gold coloured) holder. This enables the user to identify the grade 3 stylus from our standard grade 5 range.
Additional reading
For further information and to view the complete range, please see the Styli and accessories brochure.
Contact our sales team today
Get in contact with your local office to find out more information and speak to an expert.