Probing and measurement systems for automated machining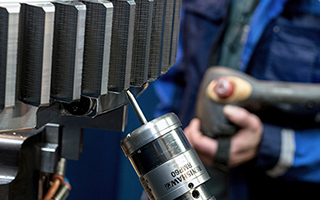 The Renishaw RMP60 probe has been working very well and it makes it possible for the Flexmill software to generate a full deburring programme for every one of the gears we manufacture.
Katsa Oy (Finland)
RENGAGE™ technology
With unbeatable 3D measurement capability and submicron repeatability, Renishaw's family of machine tool probes with RENGAGE technology combines precise silicon strain gauge sensors with ultra-compact electronics to deliver superior performance.
Speed up on-machine measurement with SupaTouch technology
SupaTouch technology intelligently optimises probing cycle time for machine tools to maximise productivity saving you time, money and scrap.
NC4+ Blue non-contact tool setter for on-machine tool measurement

Featuring industry-first, blue laser technology (patent pending) and improved optics, Renishaw's NC4+ Blue non-contact tool setting systems deliver significant improvements in tool measurement accuracy, ensuring components can be machined more accurately and efficiently on CNC machine tools.
Machine tool apps
Renishaw has developed a range of machine tool apps, both on-machine and for smartphones, which make installing, configuring, using and maintaining our systems even easier.