Proximity pays – how multiple lasers can work together on high-integrity parts
Summary - Proximity pays - how multiple lasers can work together on high-integrity parts
Production-orientated laser powder bed fusion (LPBF) machines increasingly feature multiple lasers to boost build rates. Overlapping fields of view enable these lasers to operate independently on separate parts, or to cooperate on single large components. Such flexible use of multiple lasers in close proximity to one another raises productivity and lowers part costs.
But can overlapping lasers play nicely together, or will they get in one another's way? The answer may surprise you.

Download the feature article to find out more.
About the author - Director of AM Applications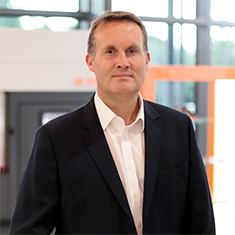 Marc Saunders has over 25 years' experience in high tech manufacturing. In previous positions at Renishaw, he played a key role in developing the company award-winning RAMTIC automated machining platform, and has also delivered turnkey metrology solutions to customers in the aerospace sector.
Marc manages a global network of Solutions Centres for metal additive manufacturing (AM), enabling customers who are considering deploying AM as a production process to gain hands-on experience with the technology before committing to a new facility.