Rail systems for CMM
Renishaw QuickLoad rail system increases CMM inspection throughput, reduces set-up time and improves repeatability.
The QuickLoad rail system makes loading and unloading fixtured parts onto your CMM quick and easy. Multiple plates can be loaded to either side of the QuickLoad rail, allowing you to make use of all of the space on your CMM bed.
Reduce CMM set-up time with the QuickLoad rail system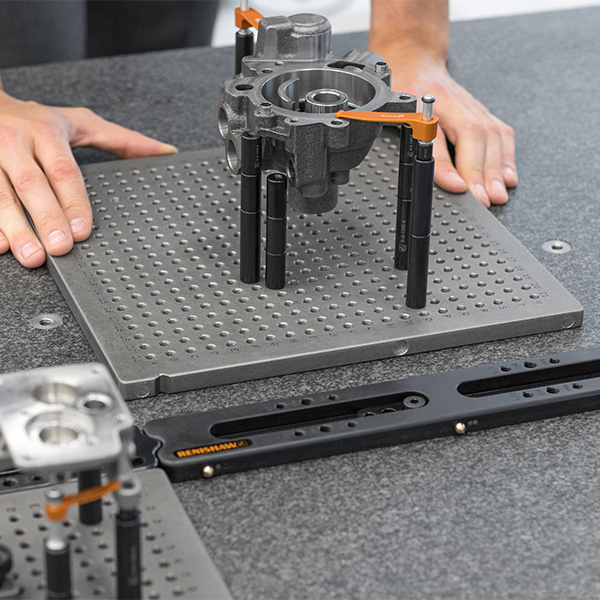 Load parts quickly
Use QuickLoad rail to reduce the time spent securing fixtured parts to the CMM bed. Specially designed QuickLoad base plates locate to the QuickLoad rail, on either side, using quick release magnets and location pins. This design allows plates to be loaded and unloaded swiftly, reducing unproductive set-up time and maximising productivity.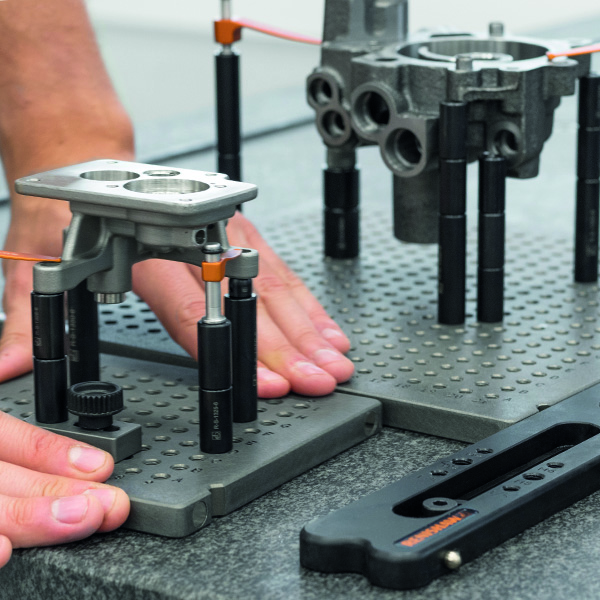 Fill the CMM bed
QuickLoad rail can be located and secured to the left, right or centre of the CMM granite, or to an existing modular base plate. As multiple plates in many configurations can be loaded to one or both sides of the QuickLoad rail, it is possible to fill the CMM bed with fixtured parts. Maximising the measurement volume in this way reduces set-up time and increases CMM productivity.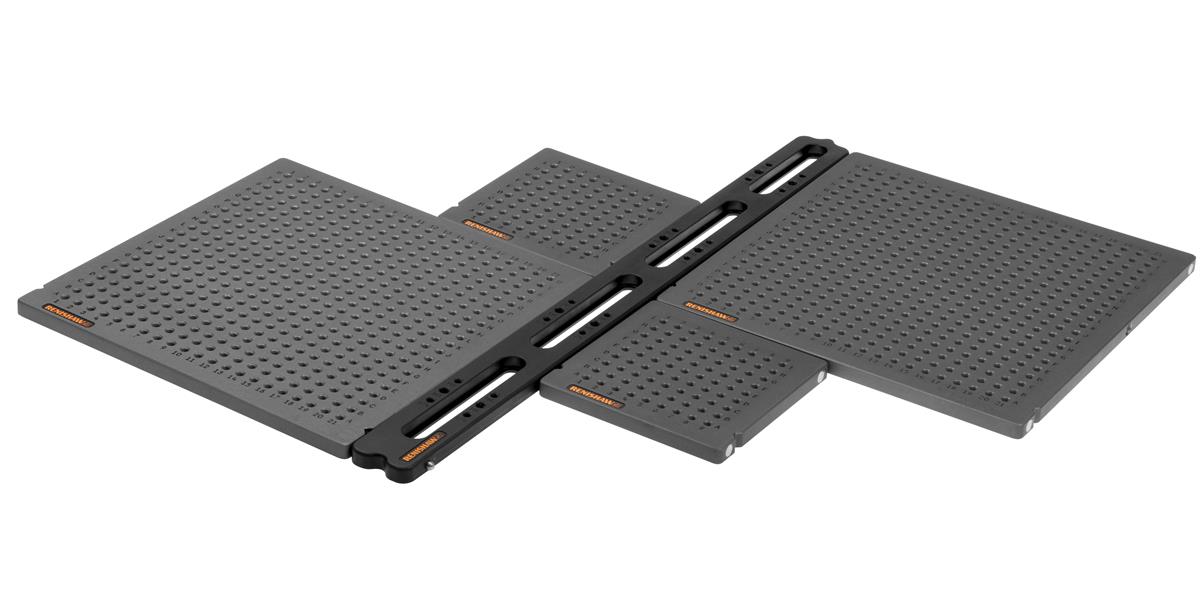 Designed with productivity in mind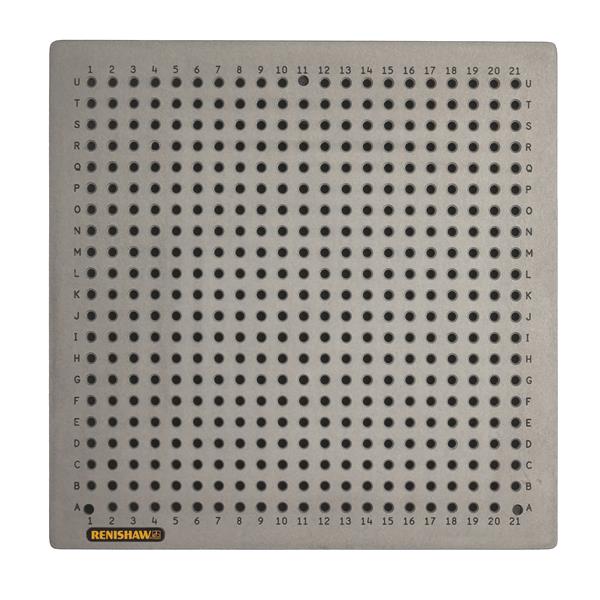 Alphanumeric labels
Recording the fixture set-up is simple as each QuickLoad base plate has an alphanumeric grid pattern, and each fixturing component has a clearly labelled part number.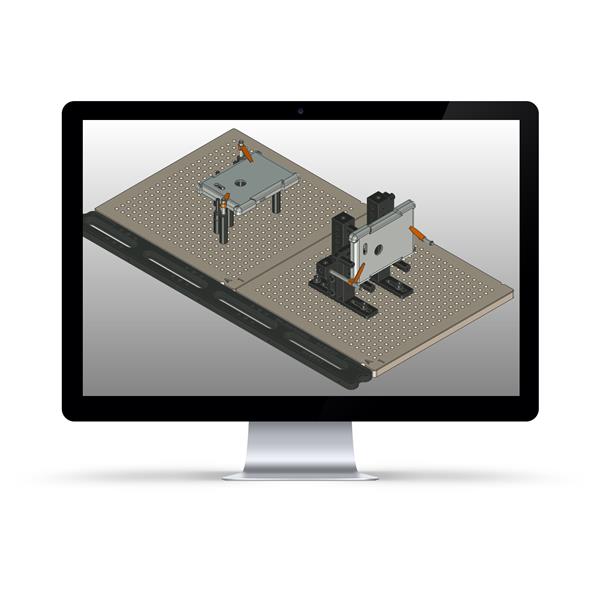 FixtureBuilder compatibility
FixtureBuilder software can be used to design and document QuickLoad rail configurations and modular fixturing set-ups. Build instructions make configurations easy to reproduce.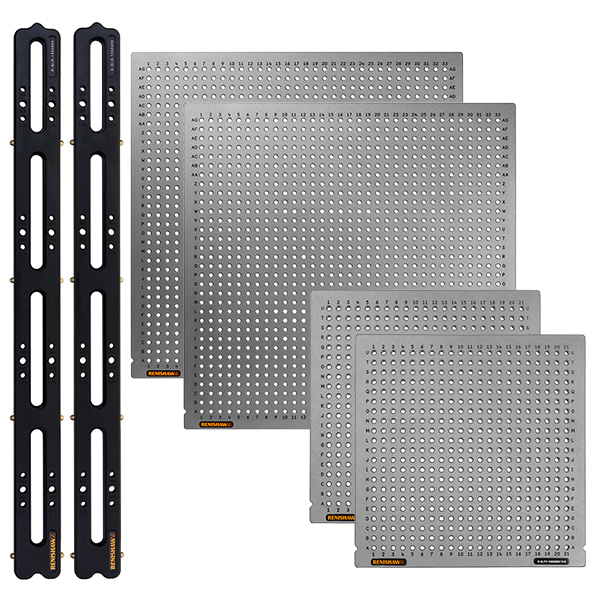 Robust base plates
The QuickLoad rail system benefits from Renishaw's industry leading Nituff® hard-coat anodised, aluminium QuickLoad base plates, which are available in M6 thread size, with M4, M8 and 1/4-20 options available upon request.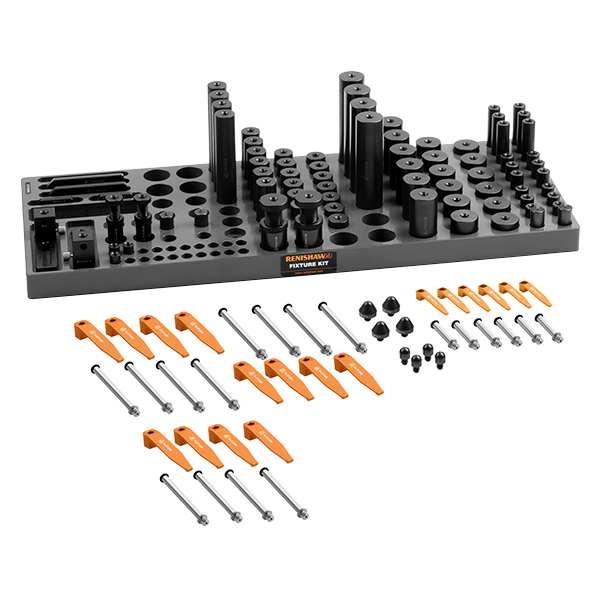 Modular fixturing components
Renishaw's modular fixturing ranges can be used with the QuickLoad rail system. A wide variety of fixturing components are available in M4, M6, M8 and 1/4-20 thread sizes from the Web shop.
Visit the Renishaw Online store or contact your local Renishaw sales team today to order your QuickLoad rail system and improve your inspection efficiency.