Renishaw neuroinspire™ system installed at Charing Cross Hospital, London
3 June 2014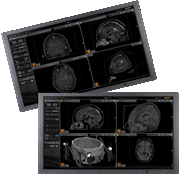 Renishaw is pleased to announce that a neuroinspire surgical planning software system has been successfully installed at the Department of Neurosurgery in Charing Cross Hospital, London, UK.
Mr Dipankar Nandi, a Consultant Neurosurgeon at Charing Cross and St. Mary's Hospital in London, said, "I find the neuroinspire software system easy to use and it is noticeably faster than the previous system we had. One important advantage lies in that the basic platform is compatible with future upgrades, in particular, the incorporation of a stereotactic atlas and the ability to use multimodality imaging (angiograms, fMRI, DTI etc.). The customer support from Renishaw has been very good."
Mr Stuart Campbell, Clinical Sales Development Manager, at Renishaw plc said, "We are very pleased to see another successful installation of neuroinspire in a leading centre in the UK. We look forward to working with Mr Nandi and his team, to obtain the best procedures for themselves and their patients. It is a clear indication that neuroinspire is fast becoming a popular choice within the neurosurgical field."
For further information on Renishaw neurological products, visit www.renishaw.com/neurological.
Downloads
All images and text copyright Renishaw
Register for news updates
Register for regular news updates from Renishaw