Taking the pain out of sunburn - confocal Raman imaging of emulsions
29 May 2020
The summer is all but here and that means only one thing – the annual battle of getting sunscreen on the kids. What kids don't appreciate is that the sun cream is a highly advanced emulsion, a true example of human endeavour against nature. It's a life saver. So, let's look deeper into this powerful cream using the inVia™ confocal Raman microscope.
Just like pharmaceutical products, the uniformity of material distribution is often a key quality attribute for creams and emulsions. UV sun creams contain materials which either absorb (typically organic) or reflect (typically inorganic) the UV light, therefore particle size and distribution is critical. It ensures cream coverage is uniform, and smaller inorganic particles allow for reflection without completely obscuring the skin to visible light. Sun cream is stored at a wide range of conditions and temperatures, from the shop shelf to in your bag or car. It is vital the uniformity and distribution of the product remains within specification, from leaving the factory right until that hot sunny day - when it is needed most.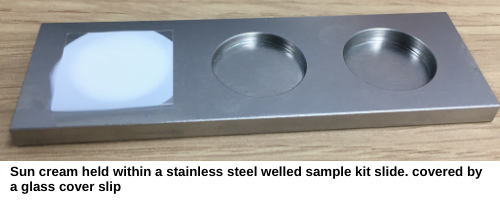 The inVia™ confocal Raman microscope is an incredibly powerful chemical imaging system. It's the ideal tool to help formulate and study creams, whether semi-solid or emulsion, whether in water or a different medium. To analyse the sun cream, I covered a small aliquot with a standard glass cover slip. I then used a high numerical aperture (NA) cover slip corrected oil immersion objective to analyse the sample using Raman spectroscopy. This objective provides optimised confocal performance and data collection efficiency, even when sampling down through the cream. I then activated the StreamHR Rapide and Empty Modelling™ functions on my inVia, which enabled me to collect data for the entire volume within minutes.
The resulting volume image shows the different particles in detail – their shape, size, composition and distribution throughout the sample – all obtained in a single scan. In this case we can see that the inorganic TiO2 and organic glycerine form the bulk of the emulsion particles. The video below shows how the particles change as we move down through the sample. Because of the specificity of Raman scattered light, additional materials could be investigated in the same way, allowing even more detail to be produced. From such data, manufacturers and researchers can study and improve the creams.
Of course, the creams that are produced today are incredibly effective, but improvements can still be made. Toxicity is a particular concern, both for people and nature. There are currently studies using chemicals which mimic those within leaves which look to move sun creams to a new generation. These new formulations will need to be investigated, and Raman imaging is an ideal tool to understand and ensure the new sun cream technology is effective and consistent right up to the point of use.
Stay safe in the sun this summer – and think of the science in the cream.
About the author
Tim Smith, Applications Manager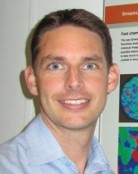 Tim has over 20 year's experience using a range of Raman research instruments. He has extensive knowledge and real-world use of systems in most application areas, however his particular expertise is within Raman imaging and pharmaceutical applications.
Tim spearheaded the application of StreamLine imaging in 2007 to large scale high resolution chemical imaging. His more recent emphasis has been on live focus tracking of materials and correlative chemical and morphological imaging.