Vision fixtures
Renishaw's vision fixtures and acrylic base plates allow for back lighting and a clear, clean look at the part from your vision system and multi-sensor machines.
Renishaw vision fixtures provide repeatability and secure work-holding for any size, shape or type of part for measurement on your vision system. Hold even the smallest of parts in a wide variety of ways while maintaining a clear view of the part.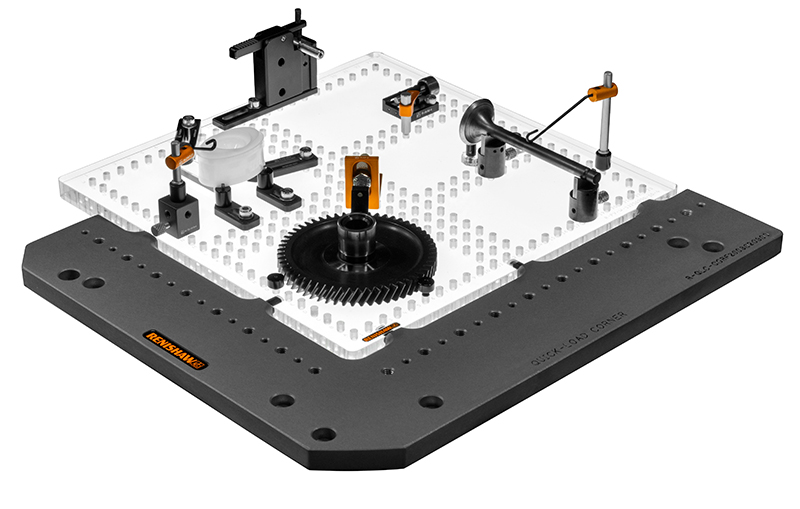 Workpiece fixturing with a clear view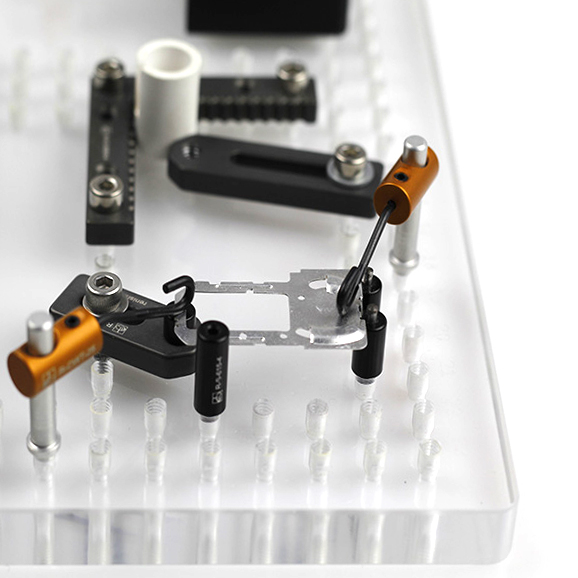 Hold small and delicate workpieces
Renishaw has a wide selection of modular metrology fixturing components, designed to hold even the smallest of parts, allowing for maximum visibility and probe access without obscuring any critical features.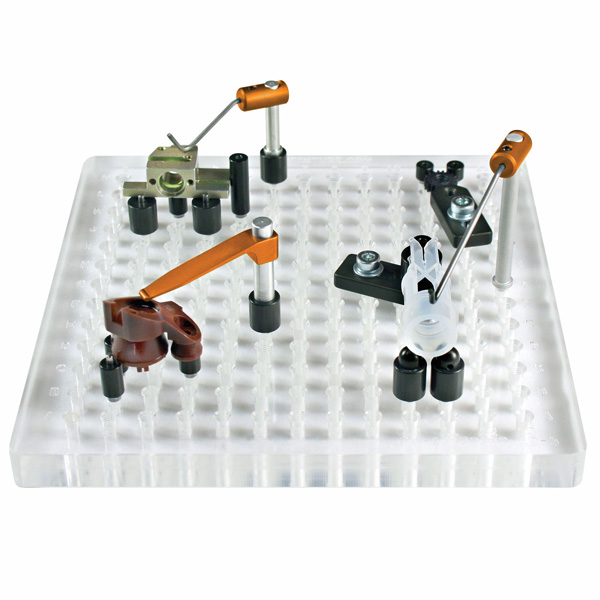 Cut inspection time
Minimise down time waiting for fixturing to be set up by keeping your parts set up on multiple plates, switching them on and off the machine in seconds. Plates can be loaded and unloaded rapidly using quick release magnets.


Made for easy viewing
Our acrylic plates allow components to be backlit, with our multi-window plates providing an unobstructed view of components. Mirrors can be used to view features on the side of components, reducing the need for reorientation.
Did you know?
Custom fixtures can be designed and created by Renishaw's in-house design team. Whether you need to increase throughput by measuring multiple parts at once or have features which are difficult to reach using our modular range, we can provide a custom solution for your vision set-up including custom QuickLoad™ corners (QLCs) or interchangeable vision fixtures.
Complete a custom request form or contact us via the 'Next steps' links.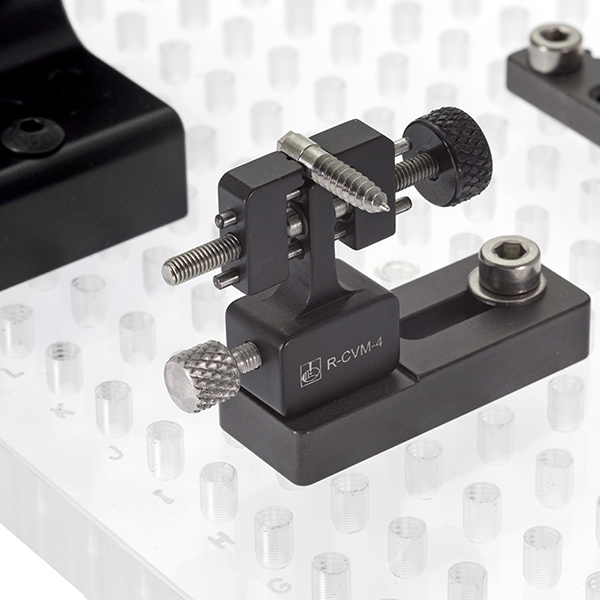 Reproducible set-ups
Identical fixturing set-ups are important to ensure the repeatability of inspection by removing variation from the process. Set-ups can be accurately documented and reproduced using our alpha-numerically labelled base plates and labelled fixturing components.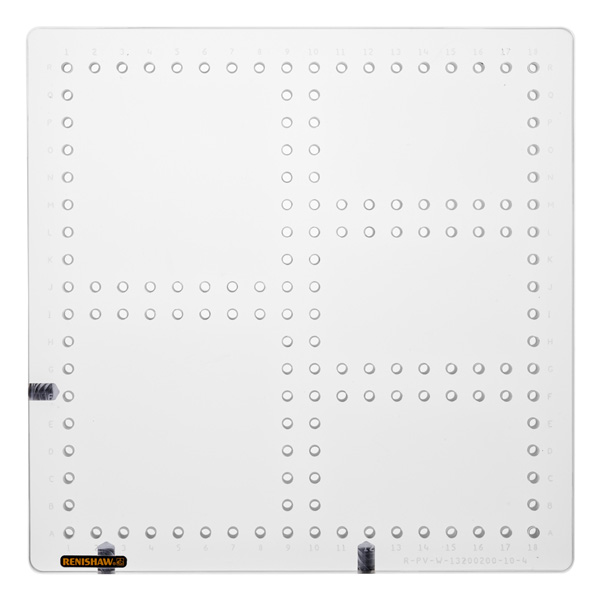 Step 2: Choose a base plate
Renishaw's acrylic base plates contain recessed steel pins that locate precisely onto magnets within the QuickLoad corner. This enables quick, easy and repeatable loading and unloading of plates on to the machine. There are two base plate options to choose from:
Multi-hole which offers greater flexibility to set up and check as many parts as possible at one time with a clear area in the centre of the plate
Multi-window with more windows for the clearest view of small parts

Fixturing components are easily adjustable and designed to hold components firmly with the minimum necessary force to avoid damage or distortion. The wide range of parts available offers flexibility when setting up a fixture to ensure a maximum clearance for inspection.
A selection of different preconfigured components sets are available in imperial and metric thread sizes. Alternatively, fixturing components can be purchased individually. Take a look at the range on our Online store or contact your local sales representative.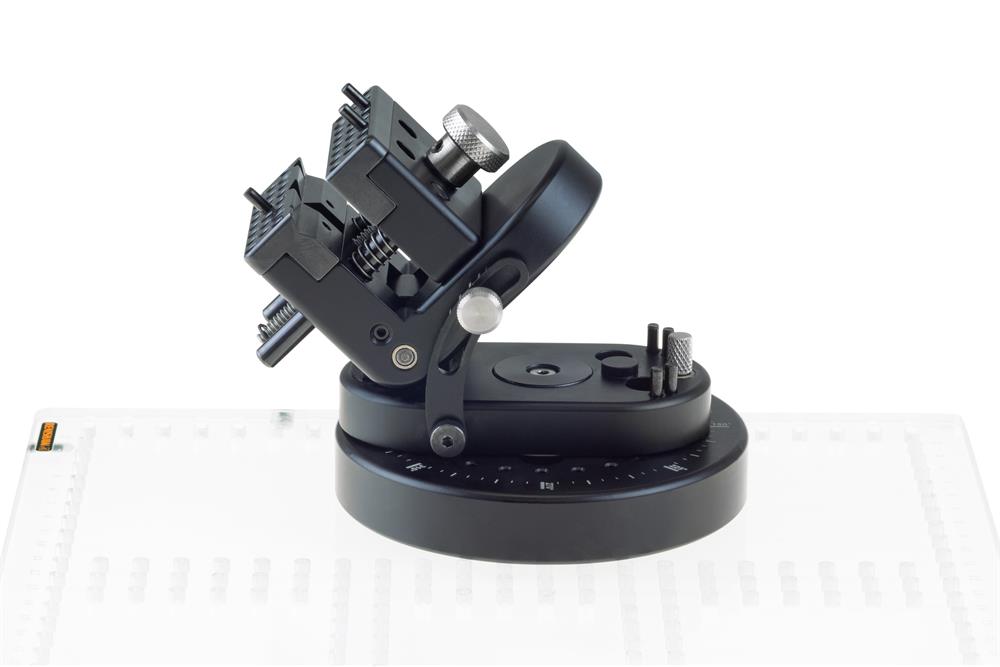 Build a vision fixturing kit
To fixture a component on a vision machine, a QuickLoad corner, base plate and a fixture kit will be needed. The type of parts you are going to fixture, your machine and application, will determine the kit you choose. Additional components may also be required, depending on the nature of the workpiece being fixtured,
Essential reading
Technical specifications: Renishaw metrology fixturing

The fixtures that you need will depend on your method of measurement (whether you are using a CMM, Equator™ gauge or vision system) and the nature of the component being inspected. This document contains an introduction to each type of fixturing, guidance on how to build your fixture and technical information about each fixturing component or kit.