X marks the spot - find ideal process parameters for your metal AM parts
Summary
Marc Saunders, Director of AM Applications at Renishaw, explains how to find the ideal process parameters for your metal additive manufactured (AM) parts. This article looks at the factors that drive the selection of Laser powder bed fusion (LPBF) processing parameters, and how these define an 'operating window' in which we must work. We will also look at the sensitivity of the process to changes in part geometry that may drive us towards application-specific parameter choices.
About the author
Marc Saunders, Director of AM Applications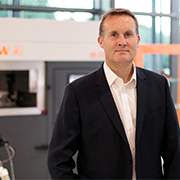 Marc Saunders has over 25 years' experience in high tech manufacturing. In previous positions at Renishaw, he played a key role in developing the company award-winning RAMTIC automated machining platform, and has also delivered turnkey metrology solutions to customers in the aerospace sector.
Marc manages Renishaw's global network of Additive Manufacturing Solutions Centres, enabling customers who are considering deploying AM as a production process to gain hands-on experience with the technology before committing to a new facility.