Navigation
SCP80 and SCP80V
SCP80 stylus changing port
Used for automatic changing between stylus holders
SCP80V is for use with the SP80H probe and is for a vertically mounted rack (not supplied by Renishaw) - it provides a a higher force for the return forks when in a vertical orientation
The SCP80V can also be used with SP80 when using long styli that extend through the rear of the port, to ensure that the port returns to its home position
SCP80V
SCP80V is for use with the SP80H probe and is for a vertically mounted rack (not supplied by Renishaw). It provides a a higher force for the return forks when in a vertical orientation
The SCP80V can also be used with SP80 when using long styli that extend through the rear of the port, to ensure that the port returns to its home position
No electrical connections required and fits into any standard extrusion
Has a spring-loaded mechanism that is designed to ease the stylus holder away from the probe body to reduce the pull-off force to less than 20 N during the change cycle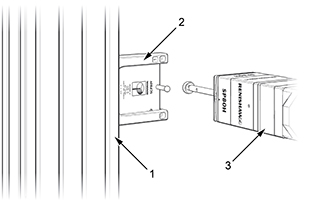 | | |
| --- | --- |
| 1 | OEM's mounting system |
| 2 | SCP80V |
| 3 | SP80H |
Due to the different spring mechanism, the SCP80V should be used with SP80 to allow styli to point to the rear of the port when mounted horizontally on the MRS / MRS2 rail.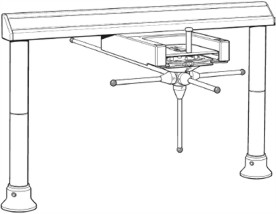 Dimensions
Dimensions in mm.

Specification
Type of rack

Passive, individual port for interchanging SH80

Mounting

Mounts to the MRS / MRS2 modular rack system

Spaced and user definable positions along the length of the MRS / MRS2

Labels

User applied port number labels

Collision protection

No collision protection in the SCP80 or MRS / MRS2

Operating orientation

Mounted parallel to the CMM bed

Maximum stylus length

The MRS can be configured to accommodate an SH80 with the 500 mm maximum (vertical) stylus length
Additional MRS legs may be required

Port entry tolerances

CMM positional accuracy of ±0.25 mm

Port lid opening force

2.6 N

Force to detach SH80

<20 N
Other
Leaflet: User's leaflet: MRS heavy duty legs

Where an MRS installation has numerous SCP80s containing heavy stylus arrangements, or vertical stylus arrangements exceeding 190 mm, it is recommended that the optional MRS heavy duty leg kits are used to provide additional rigidity/height. These kits can be purchased separately to match the number of legs used on the MRS.
---
| | |
| --- | --- |
| | Part number |
| SP80 scanning probe kits | |
| SP80 kit 1 including 1 SH80, 1 × KM80, 1 × SH80K and 1 × SH80 removal tool | A-2238-0700 |
| SP80 kit 2 including 1 × SH80, 1 × KM80, 1 × SH80K, 1 × SH80 removal tool, 3 × SCP80 and 1 × 600 mm MRS kit | A-2238-0732 |
| SP80 kit 3 including 1 × SH80, 1 × KM80,1 × SH80K, 1 × SH80 removal tool, 4 × SCP80 and 1 × 600 mm MRS kit | A-2238-0733 |
| SP80 kit 4 including 1 × SH80, 1 × KM80, 1 × SH80K, 1 × SH80 removal tool, 5 × SCP80 and 1 × 1000 mm MRS kit | A-2238-0734 |
| SP80 kit 5 including 3 × SH80, 1 × KM80,1 × SH80K, 1 × SH80 removal tool, 3 × SCP80 and 1 × 600 mm MRS kit | A-2238-0735 |
| SP80 kit 6 including 4 × SH80, 1 × KM80, 1 × SH80K, 1 × SH80 removal tool, 4 × SCP80 and 1 × 600 mm MRS kit | A-2238-0736 |
| SP80 kit 7 including 5 × SH80, 1 × KM80, 1 × SH80K, 1 × SH80 removal tool, 5 × SCP80 and 1 × 1000 mm MRS kit | A-2238-0737 |
| SP80H scanning probe kits | |
| SP80H kit 1 including 1 SH80, 1 × KM80, 1 × SH80K and 1 × SH80 removal tool | A-2238-0419 |
| SP80 and SP80H stylus changing accessories | |
| SCP80 stylus change port for SP80 (for use with MRS / MRS2 system) | A-2238-0706 |
| SCP80V stylus change port for SP80 and SP80H | A-2238-0726 |
| SH80 stylus holder for SP80 and SP80H | A-2238-0705 |
| SH80K kinematic stylus holder for SP80 and SP80H | A-2238-0430 |
| SH80 removal tool for SP80 and SP80H | M-2238-0443 |
| SP80 and SP80H interfaces and counter cards | |
| IU80 interpolator unit for SP80 and SP80H | A-2238-0720 |
| CC6 counter card for SP80 and SP80H (includes PL158 cable) | A-4068-0400 |
| SP80 accessories | |
| SM80 shank mount plate for SP80 and SP80H | A-2238-0704 |
| KM80 standard kinematic mount for SP80 and SP80H | A-2238-0703 |
| KM6080 60 mm to 80 mm quill adaptor for SP80 and SP80H | A-2238-0020 |
| PHA80 - SP80 to KM1 quick change adaptor | A-2238-0752 |
---