MRS modular rack system
Modular rack system for flexible probe and stylus changing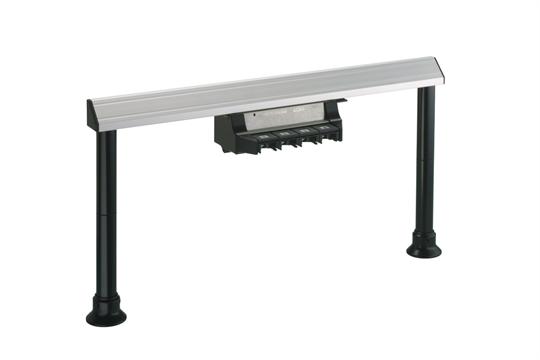 Renishaw's modular rack system (MRS) allows customisation of probe and stylus changing racks to optimise CMM functionality.
The MRS is a modular system designed to provide a platform for Renishaw probe and stylus changing racks. It comprises a rail and two leg assemblies, and is available in three different standard rail lengths, 400 mm, 600 mm and 1000 mm (15.75 in, 23.62 in and 39.37 in) to suit a number of changer requirements.
The MRS rail can also be placed at different heights from the CMM's bed by using multiple MRS legs to allow the required clearance for long styli and extension bars.
The standard interconnecting MRS legs supplied (4 per kit) are each 125 mm (4.92 in) long. A maximum recommended leg length of 500 mm (19.69 in) can be achieved by purchasing additional legs. These are available in either 62.5 mm or 125 mm (2.46 in or 4.92 in) lengths. The rack is mounted on the CMM bed via two MRS feet attached to the legs.
Where heavier rack system configurations are to be used e.g. multiple SCP80s mounted to a 1000 mm (39.37 in) rail length, the MRS system can be upgraded by using the optional heavy duty legs which are Ø60 mm × 350 mm long (Ø2.36 in × 13.78 in long). These legs mount beneath the standard legs / feet and are attached to the CMM bed.
The MRS is compatible with the following Renishaw change rack systems:
MRS heavy duty legs
Where an MRS installation has numerous SCP80s containing heavy stylus arrangements, or vertical stylus arrangements exceeding 190 mm (7.48 in), it is recommended that the optional MRS heavy duty leg kits are used to provide additional rigidity / height.
These kits are purchased separately to match the number of legs used in the MRS installation. The heavy duty leg kit stands 330 mm (12.99 in) tall and is positioned between the CMM table and the standard MRS leg assembly.
Dimensions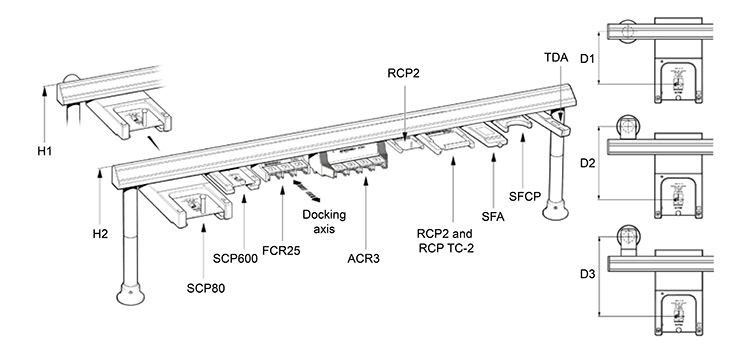 ---
MRS kit 1


MRS kit 2


MRS kit 3

Rail length

NOTE: Allow additional 10 mm (0.39 in) for plastic end caps

400 mm (15.75 in)

600 mm (23.62 in)

1000 mm (39.37 in)

Number of legs required (recommended)

2

2‡

2‡

Maximum usable rail length

With two legs mounted to underside of rail (as shown)

320 mm (12.60 in)
520 mm (20.47 in)
920 mm (36.22 in)

With legs mounted via step back adaptor (see detail)

317 mm (12.48 in)
600 mm (23.62 in)
1000 mm (39.40 in)

Height to top of rail (using legs supplied with MRS kit)

H1 = with two legs mounted to underside of rail (as shown)
325 mm (12.80 in)
325 mm (12.80 in)
325 mm (12.80 in)
H2 = with legs mounted via step back adaptor (see detail)
317 mm (12.48 in)
317 mm (12.5 in)
317 mm (12.5 in)

Height of additional single leg

62.5 mm (2.46 in)

125 mm (4.92 in)

62.5 mm (2.46 in)

125 mm (4.92 in)

62.5 mm (2.46 in)

125 mm (4.92 in)

Height of additional heavy duty leg Ø60 mm (2.36 in)

330 mm (12.99 in)
330 mm (12.99 in)
330 mm (12.99 in)

Height of additional adjustable footplate

16 mm (0.63 in)
16 mm (0.63 in)
16 mm (0.63 in)

Distance from port centre to leg (in docking axis)

D1 = with legs mounted to underside of rail (as shown)

FCR25


41 mm (1.61 in)

41 mm (1.61 in)
41 mm (1.61 in)

ACR3


56 mm (2.21 in)

56 mm (2.21 in)
56 mm (2.21 in)

SCP600


69.2 mm (2.72 in)

69.2 mm (2.72 in)
69.2 mm (2.72 in)

SCP80


134 mm (5.28 in)
134 mm (5.28 in)
134 mm (5.28 in)

D2 = with legs mounted via step back adaptor (see detail)

FCR25


94 mm (3.7 in)

94 mm (3.7 in)
94 mm (3.7 in)

ACR3


109 mm (4.29 in)

109 mm (4.29 in)
109 mm (4.29 in)

SCP600


122.2 mm (4.81 in)

122.2 mm (4.81 in)
122.2 mm (4.81 in)

SCP80


187 mm (7.36 in)
187 mm (7.36 in)
187 mm (7.36 in)

Rail length required per changer unit

FCR25*

115.8 mm (4.56 in)

115.8 mm (4.56 in)
115.8 mm (4.56 in)
ACR3**

280 mm (11.02 in)

280 mm (11.02 in)
280 mm (11.02 in)
SCP600*

87 mm (3.43 in)

87 mm (3.43 in)
87 mm (3.43 in)
SCP80*

133 mm (5.24 in)
133 mm (5.24 in)
133 mm (5.24 in)
---
* Includes 2 mm (0.08 in) extra allowance per unit
** Includes 5 mm (0.20 in) extra allowance per unit
‡ Centre leg may be required in certain applications
---
| | |
| --- | --- |
| | Part number |
| MRS kits | |
| MRS kit (400 mm) including 1 × 400 mm rail, 2 × mountings, 4 × 125 mm legs, 2 × step back adaptors and 2 mounting adaptors | A-4192-0001 |
| MRS kit (600 mm) including 1 × 600 mm rail, 2 × mountings, 4 × 125 mm legs, 2 × step back adaptors and 2 mounting adaptors | A-4192-0002 |
| MRS kit (1000 mm) including 1 × 1000 mm rail, 2 × mountings, 4 × 125 mm legs, 2 × step back adaptors and 2 mounting adaptors | A-4192-0003 |
| MRS heavy duty leg kit (single leg) | A-4192-0020 |
| MRS adjustable footplate kit (pair) | A-4192-0702 |
| MRS accessories | |
| MRS rail - 400 mm | A-4192-0050 |
| MRS rail - 600 mm | A-4192-0051 |
| MRS rail - 1000 mm | A-4192-0052 |
| MRS leg - 62.5 mm long | A-4192-0061 |
| MRS leg - 125 mm long | A-4192-0053 |
| MRS Ø60 mm × 350 mm long extension leg (for use with SP80) | A-4192-0020 |
| MRS leg foot adaptor | A-4192-0055 |
| MRS fixed foot | A-4192-0056 |
| MRS step back adaptor | A-4192-0058 |
| MRS M8 T nut | P-NU18-0005 |
| MRS step back spacer kit | A-4192-0014 |
| MRS 2 × 125 leg | A-4192-0059 |
| MRS 4 × 125 leg | A-4192-006 |
---