ACR1 port replace
CAUTION: Disconnect power from the ACR1 before replacing ports.
Port replacement is carried out using the following procedure:
1. Remove the two M3 × 6 mm securing screws as shown in the figure below, and remove the port(s) to be replaced.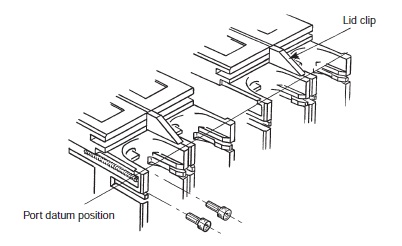 NOTE: On some racks the ports may have four holes however only two will be used.
2. Loosen the securing screws on the remaining ports in preparation for final alignment.
3. Position the replacement port(s) onto the rack and loosely screw in place. It is very important that the ports are correctly aligned.
4. Wedge open all the port lids using the lid clips supplied with the ACR1.
5. Place a rigid straight edge along the port datum position as shown in the figure above and tighten all securing screws to 0.6 Nm / 0.7 Nm.
6. Remove straight edge and lid clips.
7. Check that the run-out across individual ports does not exceed 100 µm.
8. Re-datum the rack.