MRS modular rack system
A flexible platform allows you to combine probe and stylus changing for optimum CMM functionality.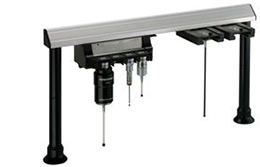 The MRS modular rack system provides a platform for Renishaw probe and stylus changing racks. It consists of a rail (400 mm, 600 mm or 1000 mm long) that holds the probe or stylus changers, and interconnecting legs of selectable lengths that allow clearance for long styli and extension bars.
The rail is compatible with the SCP600 and SCP80 (stylus change ports for SP600 and SP80 respectively), the ACR3 (autochange rack) and the FCR25 (stylus and module change rack for the SP25M).
MRS options
Rails
MRS rails are available in lengths of 400 mm, 600 mm or 1000 mm.
Legs
MRS legs are available in lengths of 62.5 mm and 125 mm.
Kits
The Renishaw modular rack system kit comprising the MRS rail and the necessary legs (4 × 125 mm) and fixing feet. Kits are available with a MRS in lengths of 400 mm, 600 mm or 1000 mm.
Extended warranty
For peace of mind a 3-year warranty is available for your new CMM products during the first 3 months from purchase. Contact your vendor.