Navigation
RCP TC-2, RCP TC-3 and RCP2
RCP TC-2, RCP TC-3 and RCP2 REVO change ports
High-speed changing between the range of REVO probes and stylus holders
RCP TC-2 and RCP TC-3
RCP TC-2 and RCP TC-3 are powered racks for use with the REVO probe range.
This rack maintains the probes at operating temperature whilst stored in the rack ports. This maintains metrology of the system after a probe change.
RCP2
RCP2 is a passive rack port for use with the RSH range of stylus holders as well as the SFS-# styli.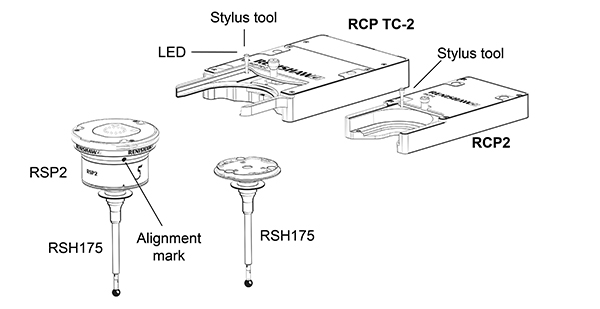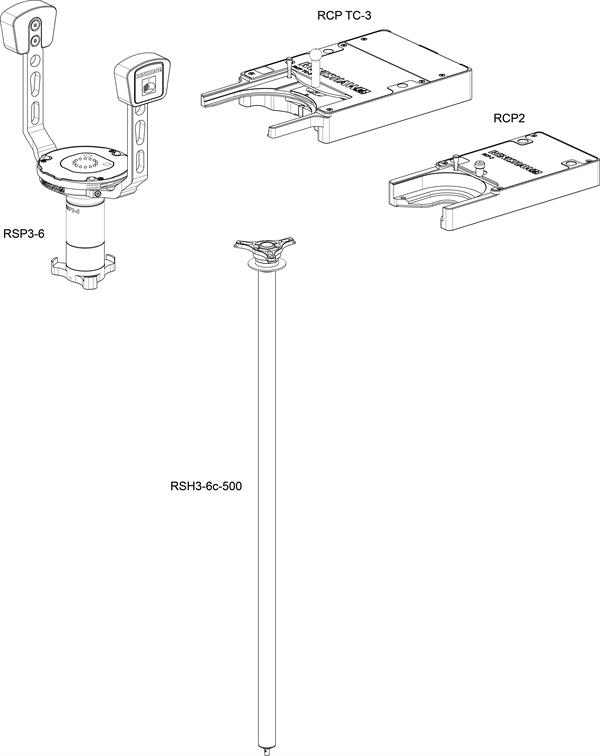 Dimensions
RCP TC-3 and RCP2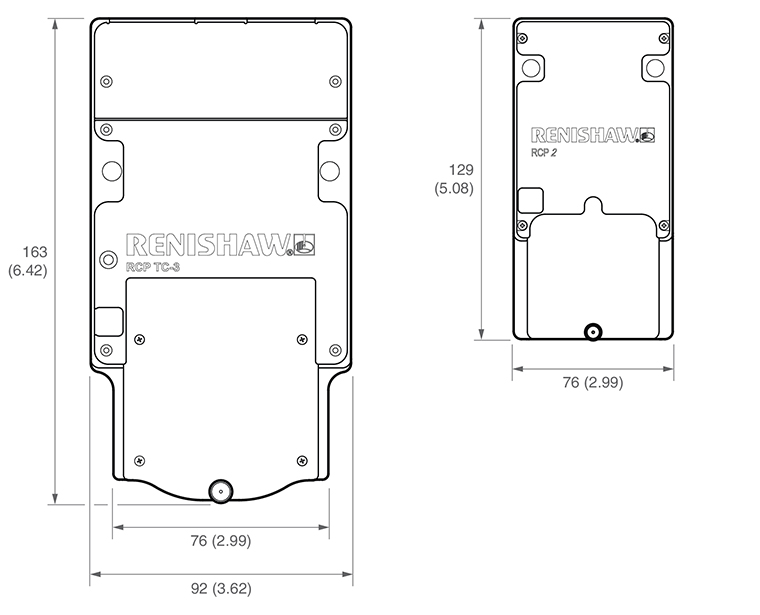 RCP TC-2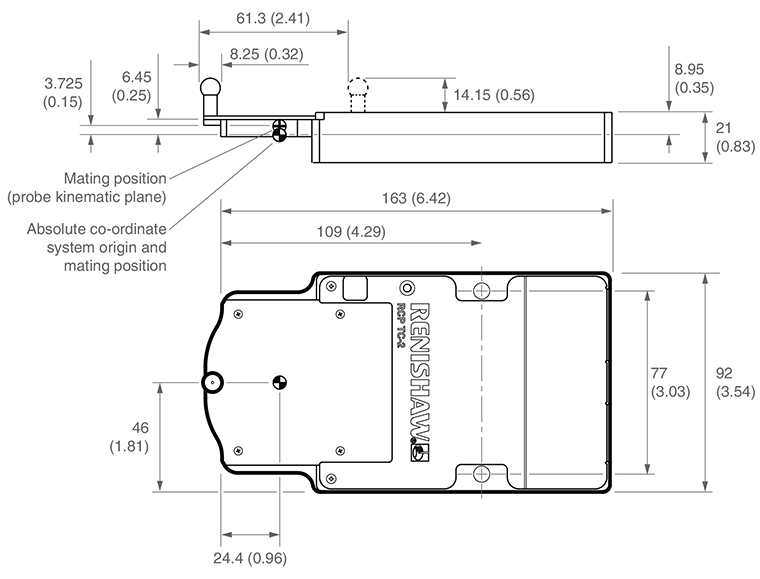 NOTE: Dimensions in mm (in).
---
| | |
| --- | --- |
| REVO rack kits | |
| REVO MRS2 rack kit #1 (includes 1 × MRS2 400 mm leg kit, 1 × MRS2 400 mm rail kit, 2 × RCP2, 1 × TDA) - 400 mm of rail space | A-3060-2631 |
| REVO MRS2 rack kit #2 (includes 1 × MRS2 400 mm leg kit, 1 × MRS2 600 mm rail kit, 2 × RCP TC-2, 2 × RCP2, 1 × RCP TC PSU unit, 1 × TDA) - 600 mm of rail space | A-3060-2632 |
| REVO MRS2 rack kit #3 (includes 1 × MRS2 600 mm leg kit, 1 × MRS2 600 mm rail kit, 1 × MRS2 front spaced 600 mm rail kit, 2 × RCP TC-2, 2 × RCP2, 1 × RCP TC PSU unit, 1 × TDA) - 1200 mm of rail space | A-3060-2633 |
| REVO MRS2 rack kit #4 (includes 1 × MRS2 800 mm leg kit, 1 × MRS2 600 mm rail kit, 1 × MRS2 front spaced 600 mm rail kit, 1 × MRS2 back spaced 600 mm rail kit, 2 × RCP TC-2, 2 × RCP2, 1 × RCP TC PSU unit, 1 × TDA) - 1800 mm of rail space | A-3060-2634 |
| REVO MRS2 rack kit #5 (includes 1 × MRS2 600 mm leg kit, 1 × MRS2 1000 mm rail kit, 1 × MRS2 front spaced 1000 mm rail kit, 2 × RCP TC-2, 2 × RCP2, 1 × RCP TC PSU unit, 1 × TDA) - 2000 mm of rail space | A-3060-2635 |
| REVO MRS2 rack kit #6 (includes 1 × MRS2 800 mm leg kit, 1 × MRS2 1000 mm rail kit, 1 × MRS2 front spaced 1000 mm rail kit, 1 × MRS2 back spaced 1000 mm rail kit, 2 × RCP TC-2, 2 × RCP2, 1 × RCP TC PSU unit, 1 × TDA) - 3000 mm of rail space | A-3060-2636 |
| REVO rack ports and rack accessories | |
| REVO RCP2 change port for RSP2, SFP1 and RSP3-6 stylus holders | A-3060-0090 |
| REVO RCP TC-2 thermally controlled change port for REVO probes | A-3061-0310 |
| REVO RCP TC PSU unit | A-3061-0302 |
| RCP TC-3 high force storage port | A-3061-0320 |
| REVO FCR25 flexible change rack kit for changing RSH3 stylus holders: three port unit for MRS system (includes 1 × FCR25, 3 × PA25-RSH3, 1 × REVO FCR25 adaptor kit) | A-3061-0105 |
| TDA (tip datum artefact) | A-3060-0085 |
| DC link cable | A-3060-0015 |
| 1.5 m dc extension cable | A-3060-0016 |
| 5 m dc extension cable | A-3060-0017 |
| 10 m dc extension cable | A-3060-0018 |
| REVO FCR25 adaptor | A-3061-0101 |
| REVO RCP door replacement kit | A-3061-1962 |
| PA25-RSH3 kit (includes 3 × PA25-RSH3 port inserts) | A-3061-2530 |
---