SFP1 legacy probe
Surface finish / surface roughness measurement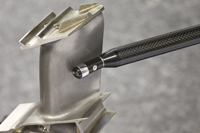 Traditionally measured with hand-held sensors or on a dedicated measuring
machine
REVO-2 SFP1 probe makes surface finish inspection an integral part of your
CMM measurement procedure
Surface finish analysis can form part of a single measurement report
System benefits:
Automatic changing of the SFP1 probe and stylus holders is possible using the standard MRS / MRS2 rack and RCP ports - this enables surface finish measurement to be fully integrated with the standard CMM inspection program
The SFP1 probe takes advantage of the infinite positioning capability of the REVO-2 head
Sensor calibration involves measuring the surface finish of the surface finish calibration artefact
(SFA) that is mounted on the MRS / MRS2 rack - the calibration software adjusts parameters within
the probe in accordance with the calibrated value for the artefact
The SFP1 includes a passive C-axis that enables surface finish measurements to be made at
all required orientations around a part - the process of changing the C-axis angle is fully
automatic, utilising the B-axis positioning of the REVO-2 head to rotate the SFP1
The SFCP (C-axis port) is mounted on the MRS / MRS2 rack and features spring-loaded pins to facilitate rotation of the C-axis using the REVO-2 head's B-axis motion
C-axis
The SFP1 has a C-axis that enables surface finish measurements to be made at all required orientations around a part. The process of moving the C-axis is fully automatic utilising both the REVO-2 head B-axis and SFCP. The reorientation routine is handled completely through UCCserver.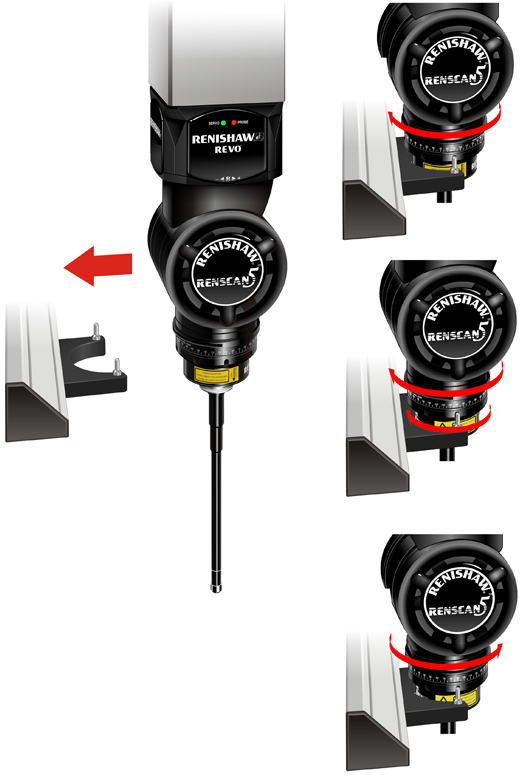 Probe characteristics
SFP1 is a skidded probe type with a 2 μm radius diamond stylus tip - the skid is held against the surface with a controlled force of approximately 0.2 N whilst the stylus tip force is 0.001 N
The SFS-1 straight and SFS-2 cranked stylus holders have been designed to facilitate access to a wide range of features
The probe size with a straight stylus holder allows measurement within a 10 mm diameter bore to a depth of 100 mm
Surface measurement capability: 6.3 µm to 0.05 µm Ra
Output: Ra, RMS and raw data are returned from UCCserver to the metrology application client software using the I++ DME protocol - the raw data can subsequently be presented to specialist surface analysis software packages for further detailed reporting
SFP1 and SFS-# changing system
The RCP TC-2 (thermally controlled REVO-2 change port) is used for changing SFP1, whereas the RCP2 (REVO-2 change port) is configured to change SFP1 styli (SFS-1 and SFS-2).
NOTE: Please observe the orientation of the probe in the RCP TC-2.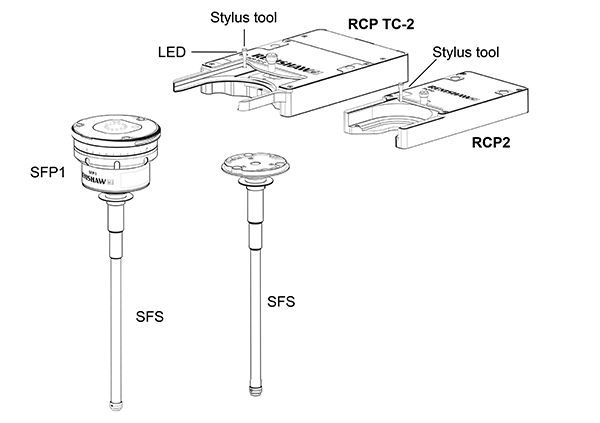 NOTE: The stylus tool is used to keep the port lid open during calibration. It must be removed for normal operation.
SFP1 styli should not be manually fitted to the RCP.
Dimensions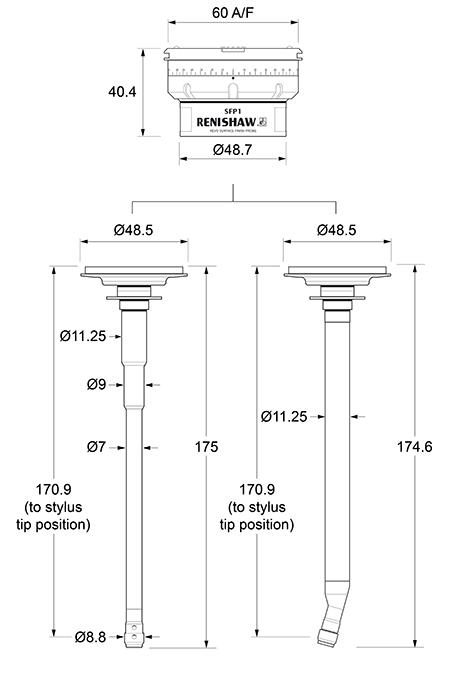 NOTE: Dimensions in mm (in).
| | Part number |
| --- | --- |
| REVO-2 5-axis scanning system kits | |
| REVO-2 entry kit (includes 1 × REVO-2 head kit, 1 × RSP2 V2 probe, 1 × RSH250 kit, 1 × datum ball kit) | A-5518-1095 |
| REVO-2 S5 controller kit (including 1 × UCC S5, 1 × SPA3 amp, 1 × REVO air filer assembly, 1 × REVO 6 mm air pipe, 1 × UCC T3 connector kit, 1 × MCU5-2 joystick, 1 × PSU) | A-5518-0096 |
| REVO-2 S5 controller kit (including 1 × UCC S5, 1 × SPA3 amp, 1 × REVO air filer assembly, 1 × REVO 6 mm air pipe, 1 × UCC T3 connector kit, 1 × MCU W-2 joystick, MCU W battery pack (2 batteries), 1 × PSU) | A-5518-0098 |
| REVO RSP2 probe | |
| RSP2 V2 probe (probe only) | A-3060-0028 |
| RSP2 stylus holder kits | |
| RSH175 stylus holder kit (including 1 × RSH175, 2 × Ø6 by 10 M2 styli, 1 × stylus tools) | A-3060-0024 |
| RSH250 stylus holder kit (including 1 × RSH250, 2 × Ø6 by 10 M2 styli, 1 × stylus tools) | A-3060-0021 |
| RSH350 stylus holder kit (including 1 × RSH350, 2 × Ø6 by 10 M2 styli, 1 × stylus tools) | A-3060-0022 |
| RSH450 stylus holder kit (including 1 × RSH450, 2 × Ø6 by 10 M2 styli, 1 × stylus tools) | A-3060-0026 |
| RSH500 stylus holder kit (including 1 × RSH500, 2 × Ø6 by 10 M2 styli, 1 × stylus tools) | A-3060-0023 |
| REVO RSP3 probe kits | |
| REVO RSP3-1 probe kit (including 1 × RSP3-1 probe, 1 × RSH3-1 stylus holder, 1 × 20 mm extension and styli) | A-3060-0331 |
| REVO RSP3-2 probe kit (including 1 × RSP3-1 probe, 1 × RSH3-2 stylus holder, 1 × 20 mm extension and styli) | A-3060-0332 |
| REVO RSP3-3 probe kit (including 1 × RSP3-3 probe, 1 × RSH3-3 stylus holder, 1 × 20 mm extension and styli) | A-3060-0333 |
| REVO RSP3-4 probe kit (including 1 × RSP3-4 probe, 1 × RSH3-4 stylus holder, 1 × 20 mm extension and styli) | A-3060-0334 |
| RSP3 stylus holder kits | |
| RSH3-1 stylus holder kit (includes 1 × stylus holder, 1 × PA25-RSH3 port adapter, 1 × stylus tools) | A-3061-2521 |
| RSH3-2 stylus holder kit (includes 1 × stylus holder, 1 × PA25-RSH3 port adapter, 1 × stylus tools) | A-3061-2522 |
| RSH3-3 stylus holder kit (includes 1 × stylus holder, 1 × PA25-RSH3 port adapter, 1 × stylus tools) | A-3061-2523 |
| RSH3-4 stylus holder kit (includes 1 × stylus holder, 1 × PA25-RSH3 port adapter, 1 × stylus tools) | A-3061-2524 |
| RSP3-6 probe | |
| RSP3-6 probe (probe only) | A-6084-0001 |
| RSP3-6 stylus holder kits | |
| RSH3-6c-500 kit for cranked styli (includes 1 × stylus holder, 2 × Ø6 by 10 M2 styli, 1 × stylus tools) | A-6084-0015 |
| RSH3-6c-600 kit for cranked styli (includes 1 × stylus holder, 2 × Ø6 by 10 M2 styli, 1 × stylus tools) | A-6084-0016 |
| RSH3-6-600 kit (includes 1 × stylus holder, 2 × Ø6 by 10 M2 styli, 1 × stylus tools) | A-6084-0006 |
| RSH3-6-700 kit (includes 1 × stylus holder, 2 × Ø6 by 10 M2 styli, 1 × stylus tools) | A-6084-0007 |
| RSH3-6-800 kit (includes 1 × stylus holder, 2 × Ø6 by 10 M2 styli, 1 × stylus tools) | A-6084-0008 |
| REVO SFP1 kits | |
| SFP1 combi kit (includes 1 × SFP1, 1 × SFS-1, 1 × SFS-2, 1 × SFCP, 1 × SFA) | A-5453-3001 |
| SFP1 entry kit 1 (includes 1 × SFP1, 1 × SFS-1, 1 × SFCP, 1 × SFA) | A-5453-3001 |
| SFP1 entry kit 2 (includes 1 × SFP1, 1 × SFS-2, 1 × SFCP, 1 × SFA) | A-5453-3002 |
| SFP1 | A-5453-0035 |
| SFS-1 | A-5453-0035 |
| SFS-2 | A-5453-0065 |
| SFCP (SFP1 C-axis port) | A-5453-0065 |
| SFA (surface finish probe calibration artefact) | A-5453-0055 |
| REVO-2 RVP kits | |
| RVP REVO-2 vision probe kit | A-5378-0080 |
| VM10 vision module kit | A-5378-0082 |
| VM11 vision module kit | A-5378-0087 |
| VPCP vision probe change port kit | A-5378-0081 |
| VMCP vision module change port kit | A-5378-0083 |
| VA10 vision artefact kit | A-5378-0085 |
| REVO rack kits | |
| REVO MRS2 rack kit #1 (includes 1 × MRS2 400 mm leg kit, 1 × MRS2 400 mm rail kit, 2 × RCP2, 1 × TDA) - 400 mm of rail space | A-3060-2631 |
| REVO MRS2 rack kit #2 (includes 1 × MRS2 400 mm leg kit, 1 × MRS2 600 mm rail kit, 2 × RCP TC-2, 2 × RCP2, 1 × RCP TC PSU unit, 1 × TDA) - 600 mm of rail space | A-3060-2632 |
| REVO MRS2 rack kit #3 (includes 1 × MRS2 600 mm leg kit, 1 × MRS2 600 mm rail kit, 1 × MRS2 front spaced 600 mm rail kit, 2 × RCP TC-2, 2 × RCP2, 1 × RCP TC PSU unit, 1 × TDA) - 1200 mm of rail space | A-3060-2633 |
| REVO MRS2 rack kit #4 (includes 1 × MRS2 800 mm leg kit, 1 × MRS2 600 mm rail kit, 1 × MRS2 front spaced 600 mm rail kit, 1 × MRS2 back spaced 600 mm rail kit, 2 × RCP TC-2, 2 × RCP2, 1 × RCP TC PSU unit, 1 × TDA) - 1800 mm of rail space | A-3060-2634 |
| REVO MRS2 rack kit #5 (includes 1 × MRS2 600 mm leg kit, 1 × MRS2 1000 mm rail kit, 1 × MRS2 front spaced 1000 mm rail kit, 2 × RCP TC-2, 2 × RCP2, 1 × RCP TC PSU unit, 1 × TDA) - 2000 mm of rail space | A-3060-2635 |
| REVO MRS2 rack kit #6 (includes 1 × MRS2 800 mm leg kit, 1 × MRS2 1000 mm rail kit, 1 × MRS2 front spaced 1000 mm rail kit, 1 × MRS2 back spaced 1000 mm rail kit, 2 × RCP TC-2, 2 × RCP2, 1 × RCP TC PSU unit, 1 × TDA) - 3000 mm of rail space | A-3060-2636 |
| REVO rack ports and rack accessories | |
| REVO RCP2 change port for RSP2, SFP1 and RSP3-6 stylus holders | A-3060-0090 |
| REVO RCP TC-2 thermally controlled change port for REVO probes | A-3061-0310 |
| REVO RCP TC PSU unit | A-3061-0302 |
| REVO FCR25 flexible change rack kit for changing RSH3 stylus holders: three port unit for MRS system (includes 1 × FCR25, 3 × PA25-RSH3, 1 × REVO FCR25 adaptor kit) | A-3061-0105 |
| TDA (tip datum artifact) | A-3060-0085 |
| DC link cable | A-3060-0015 |
| 1.5 m dc extension cable | A-3060-0016 |
| 5 m dc extension cable | A-3060-0017 |
| 10 m dc extension cable | A-3060-0018 |
| REVO FCR25 adaptor | A-3061-0101 |
| REVO accessories | |
| REVO datum ball kit (including 45 mm datum ball in wooden box with M6, M8, M10, 5/16, 3/8 mounting studs and spanner set) | A-3060-0310 |
| REVO mechanical fuse mount (crash protection) | A-3060-0300 |
| REVO RCP door replacement kit | A-3061-1962 |
| PA25-RSH3 kit (includes 3 × PA25-RSH3 port inserts) | A-3061-2530 |
| REVO air pipe 6 mm O/D × 20 m | A-3060-0082 |
| REVO air filter set | A-3060-0070 |
| 15 m cable for use with PH20 and REVO | A-5669-0015 |
| 25 m cable for use with PH20 and REVO | A-5759-0025 |
| 30 m cable for use with REVO | A-5669-0030 |
| REVO Y cable adaptor kit | A-3060-0045 |