Apprenticeships
An apprenticeship at Renishaw is a pathway to excellent career opportunities with a highly respected, world-leading precision technology business.
We offer a wide-range of apprenticeship schemes in engineering, digital, commercial and construction areas
What is an apprenticeship?
An apprenticeship is a job with learning, and will provide you with hands-on experience, professional skills, and nationally recognised qualifications through education, training and work-based placements. Renishaw apprenticeships are full-time, permanent jobs that give you formal training alongside work placements. You get to work towards qualifications at the same time as learning about the different areas of the business.
Each work-based placement is designed to complement your skills and experience whilst ensuring you are given a rigorous foundation in all areas of the specific scheme. These placements are in real jobs where you are providing value to the organisation at the same time as having your skills and experience challenged.
Placements complement the education and skills training you do as part of your apprenticeship and you will learn and develop knowledge, skills and behaviours that will lead to you being competent in a particular job role or sector.
As a Renishaw apprentice, you will benefit from 50 years of experience and commitment in training and developing our people as part of an award-winning scheme. You will get the opportunity to learn from experienced colleagues, and take part in exciting and challenging placements, working on real-life projects and products that will help to shape our world in the decades to come and touch billions of lives.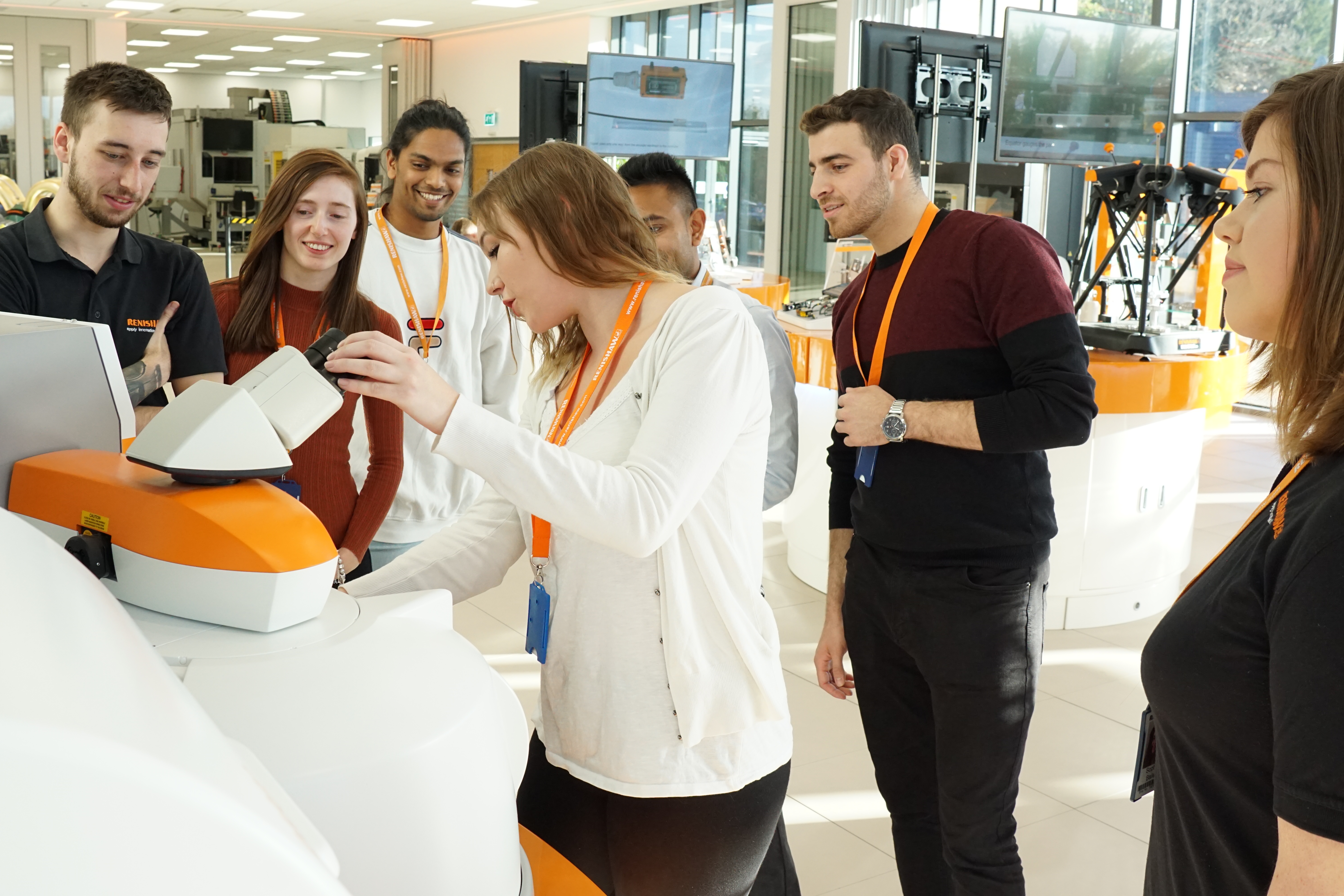 What can I expect from the apprentice scheme?
You will be supported by a team of specialists from both Renishaw and our various learning providers, to ensure you are able achieve the requirements of your programme to the best of your individual ability. We offer a range of apprenticeship schemes across different disciplines and at different levels. Our apprenticeships range from Level 2 (the equivalent of 5 GCSEs) to Level 6 (Degree Apprenticeships).

At the end of the scheme, you will transfer into a role within the business, which will allow you to apply everything you have learnt as you start your career. There is also the opportunity for further progression, subject to internal application processes. The length of the scheme is determined by the apprenticeship – some last 18 months, some are 5 and a half years for degree level apprenticeships. You will find specific information about the length, location and entry requirements in each job description below.
We welcome applicants from a diverse range of backgrounds with different skills and experience. We therefore offer a range of schemes and the opportunity to join us at different educational levels, starting with Level 2 apprenticeships (post-GCSE) through to Level 6 degree apprenticeships (post-A Level).
Apprentice recruitment
Applications for our 2024 intake are now open. Please click below to find out more about our schemes. You will be re-directed to the pages of the Early Talent Academy who support us in our apprentice recruitment.


Contact us?
If you have a query regarding our apprentice schemes, please contact our team on: earlycareers@renishaw.com

Follow our Early Careers instagram page for regular updates @RenishawEarlyCareers