neuroinspire™ neurosurgical planning software
The neuroinspire product range enables you to plan targets and trajectories for stereotactic neurosurgery.
What can neuroinspire software be used for?
The neuroinspire surgical planning software provides the tools that can assist you with the planning of most stereotactic procedures. It can integrate with the neuromate® stereotactic robot or be used as a stand-alone planning tool in conjunction with conventional arc systems. The software also has a selection of available add-on modules to suit your individual needs and preferences.
The neuroinspire stereotactic planning station is the best of the many I have used over the years. It is easy to use, very sophisticated and fast. I am also very happy with the laptop version which I use abroad.

Professor Tipu Aziz
Consultant Neurosurgeon,
John Radcliffe Hospital, Oxford, UK
Working with neuroinspire software allows neurosurgeons to: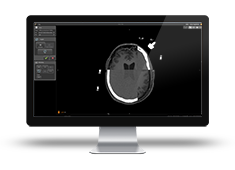 Improve procedure safety
Clearly visualise anatomical features.
Define safety corridors around trajectories.
Optimise electrode contact positioning.
Configure trajectory to avoid key anatomy.
Carry out peri-operative verification with the neuroguide™ DBS electrode delivery system.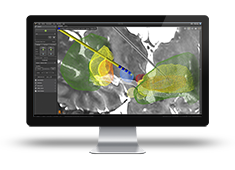 Save time with efficient procedure planning

Automatically fuse CT and MRI data sets.
Automatically register patient images to stereotactic space.
Quickly delineate anatomical features.
Intuitively plan targets and trajectories.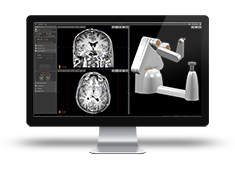 Adapt the software to your workflow

Filter by procedure type for streamlined display of options.
Select implantables from a catalogue of devices.
Integrate with the neuromate robot or use with existing arc systems.
A selection of add-on modules are available.
Add-on modules
Additional software functionality is available for purchase to enhance your surgical planning experience. These additional modules include:
Region of interest based automatic registration - Limit the automatic series registration method to using a definable region of interest of the series.

PACS Connectivity - Query and retrieve patient data directly from your hospital network.

Cerefy Electronic Clinical Brain Atlas - View the 2D Cerefy Electronic Clinical Brain Atlas, derived from Schaltenbrand G, Wahren W. Atlas for Stereotaxy of the Human Brain.

neurolocate frameless patient registration – For use in conjunction with the neuromate stereotactic robot. There are two variants of the neurolocate module; neurolocate 2D (registration with X-ray images) and neurolocate 3D (registration with CT images).

Ultrasound patient registration - An alternative frameless patient registration method for use with the neuromate robot.

Neuroendoscopy – Allows you to plan a neuroendoscopic procedure for delivery using the neuromate stereotactic robot.
Please note that not all Renishaw products, their fields of application, relative accessories or combination thereof, are available in all countries.
Renishaw Neuro Solutions Limited – Legal and Privacy Notices. Click here