AM is going downhill - fast!
Summary
Downhill mountain biking is an adrenaline-fueled sport with a simple objective - to get from mountain top to valley bottom as quickly as possible. Competitors negotiate twisting, rock-strewn, tree-lined tracks that include drops, berms and enormous jumps. The demands on both rider and bike are extreme, and now additive manufacturing (AM) is playing a critical role in driving performance to new levels.
The introductory bike range will be manufactured from carbon fibre tubing and lugs produced on a multi-laser high productivity RenAM 500Q metal additive manufacturing (AM) system, at Renishaw's Additive Manufacturing Solutions Centre located in Staffordshire, UK.
Download the feature article
About the author
Marc Saunders, Director of AM Applications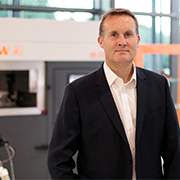 Marc Saunders has over 25 years' experience in high tech manufacturing. In previous positions at Renishaw, he played a key role in developing the company award-winning RAMTIC automated machining platform, and has also delivered turnkey metrology solutions to customers in the aerospace sector.
Marc manages Renishaw's global network of Additive Manufacturing Solutions Centres, enabling customers who are considering deploying AM as a production process to gain hands-on experience with the technology before committing to a new facility.