Autochange extension bars
A series of probe extensions placed between the probe and probe head to provide increased reach with minimal loss of accuracy.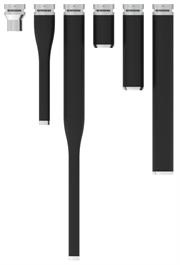 Autojoint extension bars have the female part of the Renishaw autojoint at one end of the bar, and at the other end of the bar is the probe connection mount. The male part of the autojoint is found on probe heads and allows rapid manual or automatic extension bar changing.
Autojoint extension bars are suitable for use with the ACR1 and ACR3 probe changing racks for automatic exchange of multi-probe installations. They can be fully multi-wired (all 13 pins connected) or feature just 2 wires. The probe end of the bar can feature either a male autojoint, or an M8 thread.
PHS head adaptors have a different type of kinematic joint that allows the user to convert the PHS system to other probe types and include extension bars in the set-up.