Conformal-cooled mould tools - how to cut cycle times and boost part quality
Summary
Additive manufacturing (AM) gives mould designers the freedom to create tools with complex internal cooling channels, which can be designed to maximise heat transfer to produce a rapid and uniform cooling effect. This leads to production cost savings in terms of cycle time, reduced scrap and longer mould life, and also to improved product quality.
Injection moulding allows plastic products to be produced in complex and intricate detail, often in sizeable batches, with repeatable tolerances and high surface quality.
For mould-makers, this means providing their customers with tools that can produce parts that perfectly replicate the 3D design in the minimum cycle time. Cooling of the plastic part as it solidifies within the mould tool is a critical factor, affecting both the cycle time and the quality of the part.
About the author
Marc Saunders, Director of AM Applications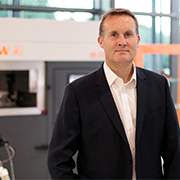 Marc Saunders has over 25 years' experience in high tech manufacturing. In previous positions at Renishaw, he played a key role in developing the company award-winning RAMTIC automated machining platform, and has also delivered turnkey metrology solutions to customers in the aerospace sector.
Marc manages Renishaw's global network of Additive Manufacturing Solutions Centres, enabling customers who are considering deploying AM as a production process to gain hands-on experience with the technology before committing to a new facility.