Data-driven manufacturing
Renishaw Central provides accurate, actionable data
A manufacturing data platform enabling:
Connectivity
Control
Consistency
Confidence
Introducing Renishaw Central
Renishaw Central is a manufacturing connectivity and data platform that collects and presents manufacturing process data. Renishaw Central enables users to monitor and update machining and quality control systems. Its features also allow for manufacturing process parameters to be updated using its unique and patented Intelligent Process Control (IPC) software functionality.
Improving manufacturing performance with accurate, actionable data
Most manufacturers already have access to metrology data, but with Renishaw Central, you can deploy that data consistently. Renishaw's portfolio of industrial metrology and additive manufacturing products, which can be used throughout manufacturing processes, provides the right data at the right time, enabling you to control your processes.​
The Renishaw Central manufacturing data platform provides a consistent method of connecting your Renishaw measurement and manufacturing devices, to make it easy for a variety of third-party systems and processes to access Renishaw device data.​
Renishaw Central enables you to store and visualise your data, consume data into your digital systems and use standards-based connections.

Connectivity
Connect multiple machines and devices to automatically detect which machines are running and determine why idle machines have stopped. Renishaw Central is a non-cloud based platform which provides real-time data.

Trace changes in manufacturing processes and access data for root cause analysis.

Access in-depth analytical features that consolidate real-time data as reports.

Collect and use inspection and status data from multiple connected devices, including co-ordinate measuring machines (CMMs), Equator™ gauging systems, machine tool probing systems, and tool setters.


Consistency
Monitor data from connected devices from a central location and increase quality throughout the entire manufacturing process.

Reduce variability by monitoring live quality data and enabling process updates.
Achieve practical improvements to throughput using actionable data enabled by IPC software.
Read and process data from simultaneous operations throughout production, allowing consistent comparisons over time.


Control
The ability to control variables and obtain knowledge over a long period of time can provide insight into your entire manufacturing process; today, tomorrow and at any point in the future.

IPC allows data to be actioned and enables you to implement practical process control.

IPC automatically calculates adjustments to send to corresponding tool offsets or variables on any connected CNC machine.

Add tool update limits, adjust targets, and add statistical process control limits to machined features.

Confidence
Build confidence in your manufacturing process and realise the true benefits of lights-out machining.

Compare efficiency, accuracy and quality across jobs, machines and manufacturing sites.

Reduce manufacturing downtime of machines by proactively identifying issues.

Make an informed diagnosis of your approach to process control.

How it works
Renishaw Central operates on-premises, giving you fast and robust process control feedback. This allows you to use local administrators, own your data, and ensure your process control is not dependent on internet connections.
The right information, in the right place, at the right time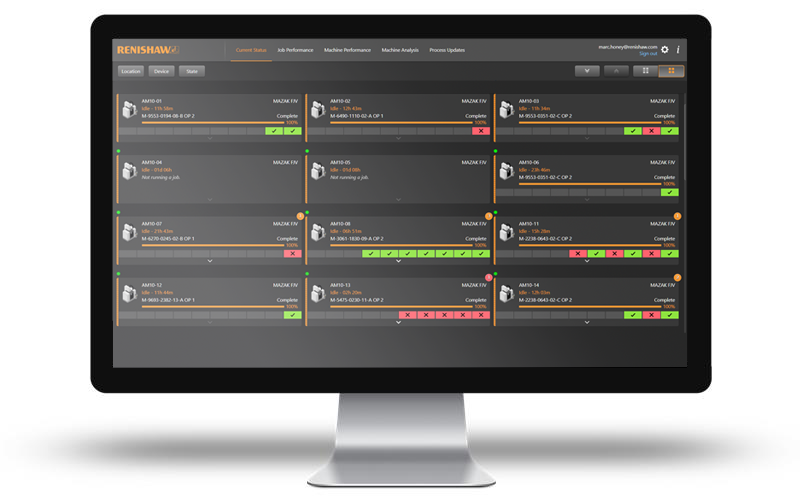 Web browser views allow live data to be displayed, sorted, filtered and plotted. Data analytics can benefit from integration into industry-leading tools which support APIs, such as Microsoft® Power BI.
Our data-driven approach to process control
As manufacturers ourselves, we face the same production challenges as our customers:

To be highly productive and flexible
To achieve more consistent capability
To increase our levels of automation
To reduce our costs and be globally competitive
At Renishaw, we've applied our own innovative approach to eliminating or controlling sources of variation in our manufacturing and we use our own products to address these common challenges. We've shared our learning with our customers who are now consistently producing performance parts, manufactured to tighter tolerances and with minimal human intervention.