Reporter
Easy-to-view component measurement data for machine tool users
Reporting made simple
Reporter is an easy-to-use, real-time process monitoring app for customers who wish to view component measurement data. Measurement data can be viewed on the machine tool or analysed externally by exporting data to a CSV file. The app is installed onto a Windows®-based CNC control or a Windows tablet connected to the control via Ethernet.
A smart app for smart factories
Simple, intuitive and easy-to-use - data is displayed in a way that is easy to understand; perfect for those with little or no probing experience.
Reporter generates highly-visual, graphical representations of measurement data. The graphical display provides a real-time pass or fail indication for each measurement while historical data allows the app to display measurement data for every part measured on that machine tool.
Simple data analysis is also possible: selection from the main graphical display presents users with data trends that can provide traceability on critical features, indicate tool wear or even display the effects of thermal growth on a machine tool axis.
The capability of Reporter is not just limited to component measurement: repeated measurement of a fixture will provide vast amounts of data for both component verification and a clear indication of machine performance. This makes Reporter a powerful tool for users who want to maximise the effectiveness of their probing system, manufacturing processes and machine tools in the simplest and quickest way possible.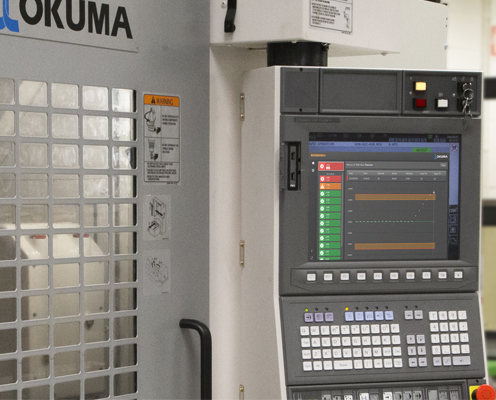 Flexible and adaptable
Reporter displays probe measurement data from Inspection Plus programs: both those that have been programmed directly and those generated via the Program builder functionality within Set and Inspect. A simple modification to existing probing programs is all it takes to get existing users up and running with Reporter.
Compatibility with Inspection Plus means that this single app can be used across a wide range of machine tools and CNC controls whilst retaining its ease of use.
Export data for further analysis
In smart factories, it is routine to collect data about manufacturing operations, then use the information to solve problems or optimise production processes. Reporter makes it easier to collect and share on-machine measurement data by exporting data to a .csv file.
Exported part records could be stored for traceability or the data could be imported into the user's in-house quality analysis software, providing manufacturers with valuable insights about their machining processes.
Set and Inspect drives manufacturing process improvements
Find out how our customers are using our range of machine tool apps to simplify their manufacturing process.
The new Hartrol Plus controller has been designed to make our machines easy to use. Set and Inspect is the perfect addition as its graphical user interface means that operators can program machine tool probing routines with ease.
Hartford (Taiwan)