Equator™ system accessories
A wide range of accessories is available for manual or automated environments.
Manual and automated accessories
Button interface - A-6088-0010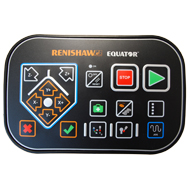 The Equator Button Interface allows push button operation of an Equator system. The Equator gauging system can be moved using the jog keys if necessary and there are buttons for initial alignment, switching between master/measure modes, changing view screens and easy error recovery.
EQ-IO, I/O interface unit (licensed with EZ-IO) - A-5923-0050
EQ-IO, I/O interface unit (not licensed with EZ-IO) - A-5923-0259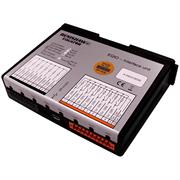 The I/O interface unit allows the Equator gauge to be connected to compatible machine tool controls, industrial robots for part loading, or other third party equipment.
EQJ, MCUlite-2 joystick - A-5504-0258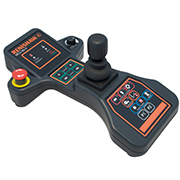 The MCUlite-2 joystick is provided with a 1.5 m length cable. When the Equator gauge is in manual mode, the MCUlite-2 joystick makes it easy to move the probe in x, y, and z. Functionality includes speed override and the ability to lock movement in different axes. A safe position can be recorded and recalled.
EQS, Stop button - A-5504-0255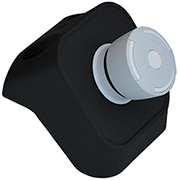 The stop button is an alternative configuration when a joystick is not required to move the probe manually around the machine. It is located on the front of the Equator system and is easily attached to the base with two screws.
EQ3F-M6, Fixture plate M6 - A-5504-0200
EQ3F-I25, Fixture plate ¼ in. - A-5504-0201
EQ3F-M8, Fixture plate M8 - A-5504-0202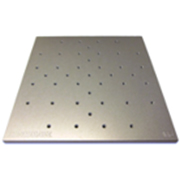 Fixture plate with kinematic location and M6, M8 or ¼ inch threaded fixing holes. Using multiple plates per Equator system allows pre-loading of parts for shorter set-up times. This is particularly useful if quick-release fixtures are not used. In environments where widely varying temperature conditions necessitate frequent re-mastering, the master part can be permanently fixtured on one plate.
EQ3F-S55, Fixture plate spacer - A-5504-0203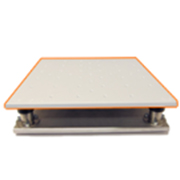 The fixture plate spacer raises the kinematic location of the base plate 55mm. If you are gauging very small parts or using short styli, the plate spacer kit can help you raise the part within the working envelope during program development and gauging.
Equator enclosure - A-5504-0210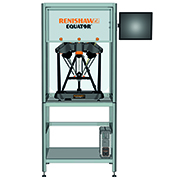 The Equator system enclosure provides a self contained gauging station with an optimised footprint, configurable to individual customer requirements. Elements include:
Standard top unit - with high level access door for cleaning
Standard base unit - with levelling feet and shelf for controller
Monitor bracket - height adjustable on left or right side of top unit

Equator styli kits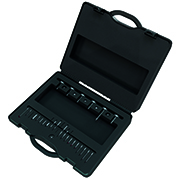 Equator styli kits contain styli most commonly used by Equator system users and are available in three versions, at package prices lower than the sum of the contents. The kits have been designed to provide a storage solution for up to six assembled stylus tools. With all the kits contained within the same box, extra styli can be stored in the spare locations. All styli are also available separately. M3 styli are intended for use in straight configurations, while lighter M2 styli and adaptors are included for cranked and star styli applications.

Equator Gauge Checker kit - A-5925-0200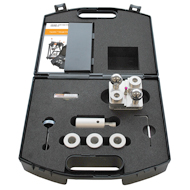 Equator Gauge Checker has been specifically designed as an aid to your Equator gauging system.
Unlike a CMM, the Equator gauge does not need to be re-calibrated at periodic intervals to ensure accuracy across the working volume. However, it is useful to be able to validate that the Equator system is working to its manufactured specification. Equator Gauge Checker is easy to integrate into your maintenance schedule and enables a quick health-check to be performed.
Each Equator Gauge Checker kit can be used across multiple systems.