Focusing on laser melting performance
Summary- focusing on laser melting performance
The article features how new optical schemes for selective laser melting systems can provide more consistent control of laser processing conditions.
Dynamic beam focussing offers new possibilities for tighter focus control across the build plate and in varying thermal conditions.
The report details:
Laser melting basics
Galvo laser positioning and focussing
Dynamic focussing systems
F-theta systems
Download the feature to find out more.
About the author - Director Global Solutions Centres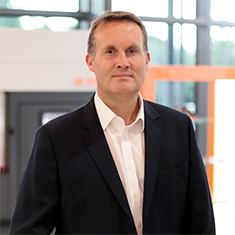 Marc Saunders has over 25 years' experience in high tech manufacturing. In previous positions at Renishaw, he played a key role in developing the company award-winning RAMTIC automated machining platform, and has also delivered turnkey metrology solutions to customers in the aerospace sector.
Marc manages a global network of Solutions Centres for metal additive manufacturing (AM), enabling customers who are considering deploying AM as a production process to gain hands-on experience with the technology before committing to a new facility.