Industrialising AM - creating predictable, productive processes
Summary
The recent emergence of the term Additive Manufacturing (AM) bears witness to an ongoing transformation in the use of additive technologies, away from low volume 3D printing and towards series manufacturing. This feature article explores the drivers behind this trend to industrial AM, and the technical developments that will be critical success factors in this transition.
The article details:
Drivers for industrialisation
Integrated manufacturing process chains
Future process chains
Productive AM processes
About the author
Marc Saunders, Director of AM Applications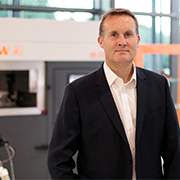 Marc Saunders has over 25 years' experience in high tech manufacturing. In previous positions at Renishaw, he played a key role in developing the company award-winning RAMTIC automated machining platform, and has also delivered turnkey metrology solutions to customers in the aerospace sector.
Marc manages Renishaw's global network of Additive Manufacturing Solutions Centres, enabling customers who are considering deploying AM as a production process to gain hands-on experience with the technology before committing to a new facility.