MCU W-2
The wireless manual control unit (MCU W-2) is a comprehensive joystick designed for use with Renishaw's range of UCC controllers.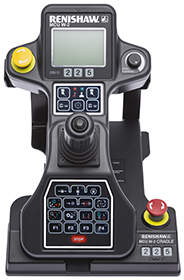 Based on the MCU5-2 joystick design, the MCU W-2 uses modern battery technology and Bluetooth® radio modules to provide an effective wireless joystick with a maximum of 25 m range and over eight hours between battery changes.
A spare battery and an automatic charger are included in the joystick docking cradle.
Technical specification
MCU comparison
■ Standard specification
- Not available
MCUlite-2
MCU5
MCU W
MCU5-2
MCU W-2
Display window
-
■
■
■
■
Fast / slow button
■
On paddle
On paddle
On paddle
On paddle
Programmable function keys
2
4
4
4
4
Axis locks
■
■
■
■
■
Engage / re-engage
■
■
■
■
■
Disable probe
■
■
■
■
■
Take point / delete point
■
■
■
■
■
Speed override
■
■
■
■
■
Operate rotary table
-
■
■
■
■
Run / stop program
-
■
■
-
-
Move in part CS
-
■
■
■
■
Soft stop facility
-
■
■
■
■
Wireless operation
-
-
■
-
■
Battery life
-
-
8 hours
-
10 hours
Move in stylus CS
-
Via menu
Via menu
■
■
Macro cycles
-
-
-
■
■
Orbital mode
-

UCCsuite 4.8

Via menu

UCCsuite 4.8

Via menu

■
■
Tap touch
UCCsuite 4.8
UCCsuite 4.8
UCCsuite 4.8
■
■