QC20 ballbar
The industry standard for quick, simple and effective machine tool performance verification.
QC20 ballbar testing offers significant performance and operational benefits.
Ballbar testing provides a simple, rapid check of a CNC machine tool's positioning performance to recognised international standards (e.g. ISO, ANSI/ASME, etc). This allows users to benchmark and track the condition of their machines, and to quickly diagnose problems that may require maintenance. It also identifies the error sources that produce them.
Regular testing of machine tools using QC20 ballbar helps to:
ensure accurate parts, first time, from CNC machines

reduce machine down-time, scrap and inspection costs

demonstrate compliance with machine performance and quality management standards

implement fact based predictive maintenance
Knowing the machine's capability before it cuts parts allows us to minimise scrap and machine downtime. That gives us high part-quality and productivity while keeping manufacturing cost down. It's what Lean Manufacturing is all about - greater customer value.

Nemcomed (USA)
What is a QC20 ballbar?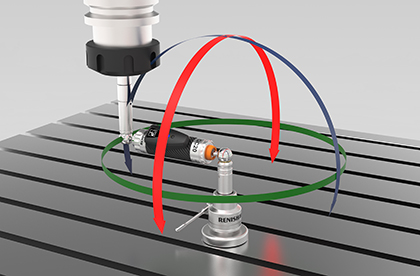 The QC20 ballbar consists of:
the QC20 ballbar (a very high accuracy, telescoping linear sensor with precision balls at each end)
two precision magnetic mounts, one attached to the machine table and the other to the machine spindle or spindle housing.
In use the balls of the sensor are kinematically located in the magnetic cups. This arrangement enables the ballbar to measure minute variations in radius as the machine follows a programmed circular path around the mount on the machine table.
The Ballbar 20 software calculates the collected data's overall measurements of positioning accuracy (circularity, circular deviation) in accordance with international standards or in Renishaw's own analysis reports. This report uses a unique mathematical analysis to diagnose many additional individual machine errors from the set of linear readings. Data is displayed graphically as well as in numeric format to aid and support diagnosis.
Benefits of ballbar testing
Bluetooth wireless technology ensures no wire handling issues, closed door operation and reduced possibility for system damage.

Hardware and software which allows a 'partial arc' (220) test. This provides greater test flexibility:

Improved Z axis testing (no custom fixturing required).
Tests where axis travel is limited (typically Z axis on machining centres and X axis on lathes).
Ability to test 3 planes from a single set up, using 'partial arc' tests for 2 of the tests and present a 'volumetric analysis'.

Faster data reading for enhanced analysis on small test circle and high feed rates.

Enhanced Ballbar 20 software includes features for extended testing and detailed analysis reports to diagnose machine errors.
The QC20 ballbar kit includes a 100 mm long ballbar assembly and 50, 150 and 300 mm long extension bars. By assembling the ballbar with different combinations of extension bars it is possible to carry out ballbar tests with 100, 150, 250, 300, 400, 450, 550 or 600 mm radii. With additional extensions it is possible to perform tests up to 1350 mm radius.
The ball mounts have been designed to allow the QC20 ballbar to carry out additional 220° 'partial arc' tests in planes through the centre pivot axis. This allows ballbar tests to be performed quickly in three orthogonal planes without the need to reposition the centre pivot. If carrying out 'partial arc' tests with a radius greater than 150 mm custom fixturing is required.
The ballbar calibrator enhances test analysis. It enables absolute readings for scale errors and provides a quick check that the ballbar is reading nominally correctly.
The ballbar test results can be used in the 'volumetric analysis' report function within Ballbar 20 software with the assurance that all data has been gathered around the same point.
QC20 ballbar can be used in conjunction with Ballbar Trace, a time-based software package which is free of charge to existing users. This offers greater flexibility to many new applications, including 5-axis ballbar verification (to ISO 10791-6) and static monitoring.
Customer testimonials
Find out how our customers are using our QC20 ballbar to improve their measurement process.
Making QC20 ballbar testing an integral part of machine tool healthchecks has not only helped ensure consistent part conformity, it's also given us the ability to be able to return a machine tool previously deemed unproductive to full operational service.
Using the ballbar's diagnostic software to automatically interpret results and diagnose errors also means machine operators are effectively freed from having to calculate from first principles what the data really means, where the problem lies and how it can be remedied. This helps save a lot of time in component production.
BAE Systems, UK


Ballbars have helped us a lot. Since we started using Renishaw QC20 ballbars, we have reduced overall scrap rates by more than thirty percent, and all of this is the result of doing preventative maintenance work. It's important to realise that the quartz is an expensive material that accounts for a significant proportion of the cost of the end products, so cost reductions mean increases in both profits and competitiveness.
We also use QC20 ballbars to analyse every piece of machinery, create reports, and divide machines into high, medium and low categories based on overall performance and efficiency. This makes it easier for us to systematically allocate work to the most appropriate machines when we receive orders, thereby increasing the overall production efficiency.
Kumkang Quartz Co., Ltd, Korea (South)