QC20 ballbar accessories
Renishaw provides accessories to perform a QC20 ballbar test on a range of machines.
360° lathe adaptor kit
Expand the versatility of the QC20 ballbar by including lathes in your ballbar test programs. Diagnosing specific errors on your lathe is both quick and easy using this accessory.
The kit includes:
Lathe adaptor arm assembly
Spindle bar assembly
Spherical adaptor (with magnetic centre cup)
Cup screw (with magnetic centre cup)
Carrying case
Browse our online store for the full range of QC20 ballbar accessories and spares.
| | |
| --- | --- |
| Machine requirements | |
| X-axis clearance: | ≥ 220 mm from centre line |
| Y-axis clearance: | ≥ 330 mm from chuck |
| Spindle diameter: | ø25 mm (others will require additional magnetic base) |
| Tool header: | accepts 20 mm or 25 mm tool shanks |
| CNC control: | circular interpolation in ZX plane |
On lathes with restricted axis travel, it may be possible to perform a 50 mm radius test using the small circle accessory kit. It is crucial to ensure that there is clearance for the ballbar in this configuration before performing the test.
VTL adaptor
The VTL adaptor enables diagnosis of vertical turning lathes, laser cutting machines and pick and place machines. With tests performed in the ZX plane the VTL adaptor allows the magnetic centre cup to be retracted after centering, without losing centre location, so that the machine can be moved to the test start position.
The VTL adaptor includes:
Small circle accessory kit
This small circle accessory kit allows the QC20 ballbar to perform 50 mm radius tests (standard minimum is 100 mm). This provides enhanced analysis of servo control systems on most types of machines.
The kit includes:
QC20 small circle adaptor
Ballbar calibrator (50 mm)
Calibration certificate

Ballbar spindle centring device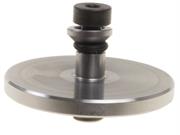 The ballbar spindle centring device helps to centralise the tool cup tip with the spindle centreline. This device has been designed to simplify the setup requirements of ISO 10791-6.