QUANTiC™ incremental encoder system with RKLC40-S linear and partial arc scale
Features
Operating rideheight tolerance ±0.3 mm
Digital output
Readhead size: 35 x 13.5 x 10 mm
Resolutions to 50 nm
Speed up to 24 m/s
Excellent dirt immunity
Optical IN‑TRAC™ reference mark
Dual limits
Benefits
Narrow 6 mm wide scale suitable for space limited applications
Suitable for partial arc measurement
Substrate mastered scale giving improved metrological performance
Easy installation
No separate interface required
Advanced Diagnostic Tool

What is QUANTiC?
The QUANTiC encoder series integrates Renishaw's filtering optics design and interpolation technology to create a high performance, super-compact, digital all-in-one incremental open optical encoder. QUANTiC encoder systems are easy to install with exceptionally wide installation and running tolerances, along with its built-in installation and calibration functions. Further diagnostic information can be accessed by using the Advanced Diagnostic Tool ADTi‑100 and ADT View software during installation or for in‑field diagnostics and fault finding. Speeds up to 24 m/s can be achieved to meet the most demanding motion control requirements. The QUANTiC encoder offers resolutions down to 50 nm and a wide range of configurations, making optimisation easy and simple. Dynamic signal processing gives improved signal stability to achieve superior performance from your motion control system.
What is RKLC40-S scale?
RKLC40-S is a narrow, low profile stainless steel tape scale featuring 40 µm pitch incremental graduations and IN-TRAC customer selectable reference marks. There are two levels of accuracy - standard with ±15 µm/m and high accuracy with ±5 µm/m - and it is available in lengths up to 20 metres (>20 m on request). The RKLC40-S is mastered to the machine substrate giving improved metrological performance when the scale ends are rigidly fixed to the substrate.
The flexible RKLC40-S scale is also suitable for partial arc measurement where the small cross-sectional area allows it to be wrapped around a drum, shaft or arc with a minimum radius of 26 mm.
Why choose this encoder system?
Easy installation
In OEM applications, machine build time is critical, as time saved in component installation allows shorter manufacturing lead times and ultimately higher profitability. The QUANTiC encoder series helps to fulfil this need with its wide set-up tolerances for an incremental product (yaw tolerance ±0.9° and rideheight tolerance ±0.2 mm) and integrated set-up LED on the readhead. With improved installation tolerances, production will benefit from a faster installation process, reduced overheads and an increase in throughput.
Narrow, robust and versatile scale
RKLC is a robust, 6 mm wide stainless steel encoder tape scale with a thickness of 0.15 mm. This allows the scale, when rigidly fixed to a machine axis, to become 'mastered' to the machine substrate, matching its thermal expansion coefficient and behaviour. Differential movement between the scale and the machine is thus minimised.
RKLC partial arc encoder scales
RKLC encoder scales can be conveniently cut to required length and mounted on a simple cylindrical substrate with no requirement for complex mounting features or tightly toleranced alignment surfaces.
All purpose digital encoder system
QUANTiC is the encoder of choice because it combines high speed interpolation with impressive metrology performance, making it suitable for even the most demanding applications. The configurations available help the user optimise the speed and resolution of their system depending on their motion control requirements. Furthermore, the QUANTiC readhead works with both linear and rotary (angle) scales across a range of accuracies. It is quick and easy to install, making it particularly suitable for volume production.
Optional Advanced Diagnostic Tool ADTi-100
The QUANTiC encoder system is compatible with the Advanced Diagnostic Tool ADTi-100 and ADT View software. They provide comprehensive real-time encoder data feedback to aid more challenging installations and diagnostics. The intuitive software interface can be used for:
Remote calibration

Signal optimisation over the entire axis length

Readhead pitch indication

Limit and reference mark indication

Digital readout of encoder position (relative to the scale)

Monitoring the velocity against time graph

Exporting and saving data
Measuring standard

Narrow stainless steel tape scale with self-adhesive backing tape, for mounting directly to a substrate

Suitable for partial arc applications (minimum radius for partial arc: 26 mm)

Readhead size (LxWxH)

35 mm x 13.5 mm x 10 mm

Scale pitch

40 μm

Coefficient of thermal expansion

Matched to substrate material when scale ends are fixed with end clamps

Accuracy grade at 20 °C

40 µm (high accuracy): ±5 µm/m
40 μm: ±15 μm/m

Reference mark

IN-TRAC reference marks directly embedded in the RKLC-S

Selector magnet(s) used to identify chosen reference mark

Limit switches

Dual limits

Scale length

Up to 20 m (>20 m on request)

Scale form (H x W)
0.15 mm x 6 mm including adhesive

Maximum speed

Up to 24 m/s

(See data sheet for details)

Sub-Divisional Error (SDE)

Typically <±80 nm

Dynamic signal control

Real time signal conditioning including Auto Gain Control (AGC), Auto Balance Control (ABC) and Auto Offset Control (AOC) for optimised performance across a range of operating conditions

Incremental signals




10 μm to 50 nm resolution

(See data sheet for details)

Electrical connection

0.2 m, 0.5 m, 1 m, 1.5 m, 2 m and 3 m cable lengths with D-type connectors (9 and 15 pin) or circular in-line connector (12 pin)

0.5 m, 1 m, 3 m cable lengths with 14-way JST connector

Power supply

5 V -5%/+10%, typically <200 mA fully terminated

Vibration (operating)

100 m/s2 max at 55 Hz to 2 000 Hz, 3 axes

Shock (operating)

500 m/s2, 11 ms, ½ sine, 3 axes

Operating temperature

0 °C to +70 °C

Sealing

IP40
Refer to data sheet for full details.
QUANTiC encoders feature the third generation of Renishaw's unique filtering optics that average the contributions from many scale periods and effectively filter out non-periodic features such as dirt. The nominally square-wave scale pattern is also filtered to leave a pure sinusoidal fringe field at the detector. Here, a multiple finger structure is employed, fine enough to produce photocurrents in the form of four symmetrically phased signals. These are combined to remove DC components and produce sine and cosine signal outputs with high spectral purity and low offset whilst maintaining bandwidth to beyond 500 kHz.
Fully integrated advanced dynamic signal conditioning, including Auto Gain, Auto Balance and Auto Offset Controls, ensures low Sub-Divisional Error (SDE) of typically <±80 nm for small rotary systems, typically <±150 nm for large rotary systems and <±80 nm for linear systems.
This evolution of filtering optics, combined with carefully designed electronics, provide incremental signals with wide bandwidth achieving a maximum speed of 8 800 rpm for rotary systems, 24 m/s for linear systems, with the lowest positional jitter (noise) of any encoder in its class. Interpolation is within the readhead, with fine resolution versions being further augmented by additional noise-reducing electronics to achieve jitter down to 2.73 nm RMS.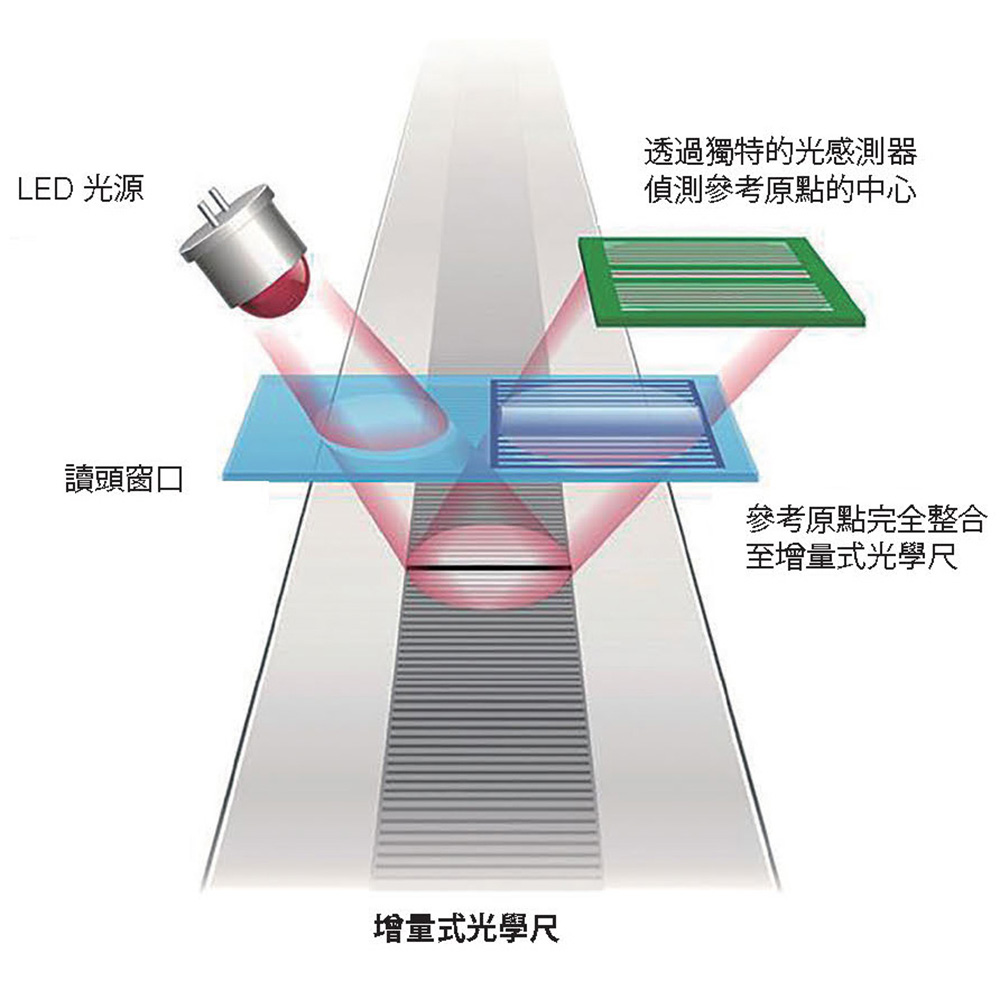 The IN-TRAC reference mark is fully-integrated in the incremental scale and is detected by a photodetector within the readhead. This unique arrangement also benefits from an automatic calibration routine that electronically phases the reference mark and optimises the incremental signals.