Virsa™ Raman analyser
The world's only Raman system with remote probes capable of automatic focus-tracking.
The Virsa fibre-optic-coupled Raman analyser enables you to take your spectroscopic analysis away from the confines of the laboratory microscope to new samples and environments.
Using our LiveTrack™ focus-tracking technology and Monitor™ software, the Virsa system can easily perform real-time analysis on samples that have irregular surfaces, are changing shape as they undergo phase changes, and that move, such as those on production lines.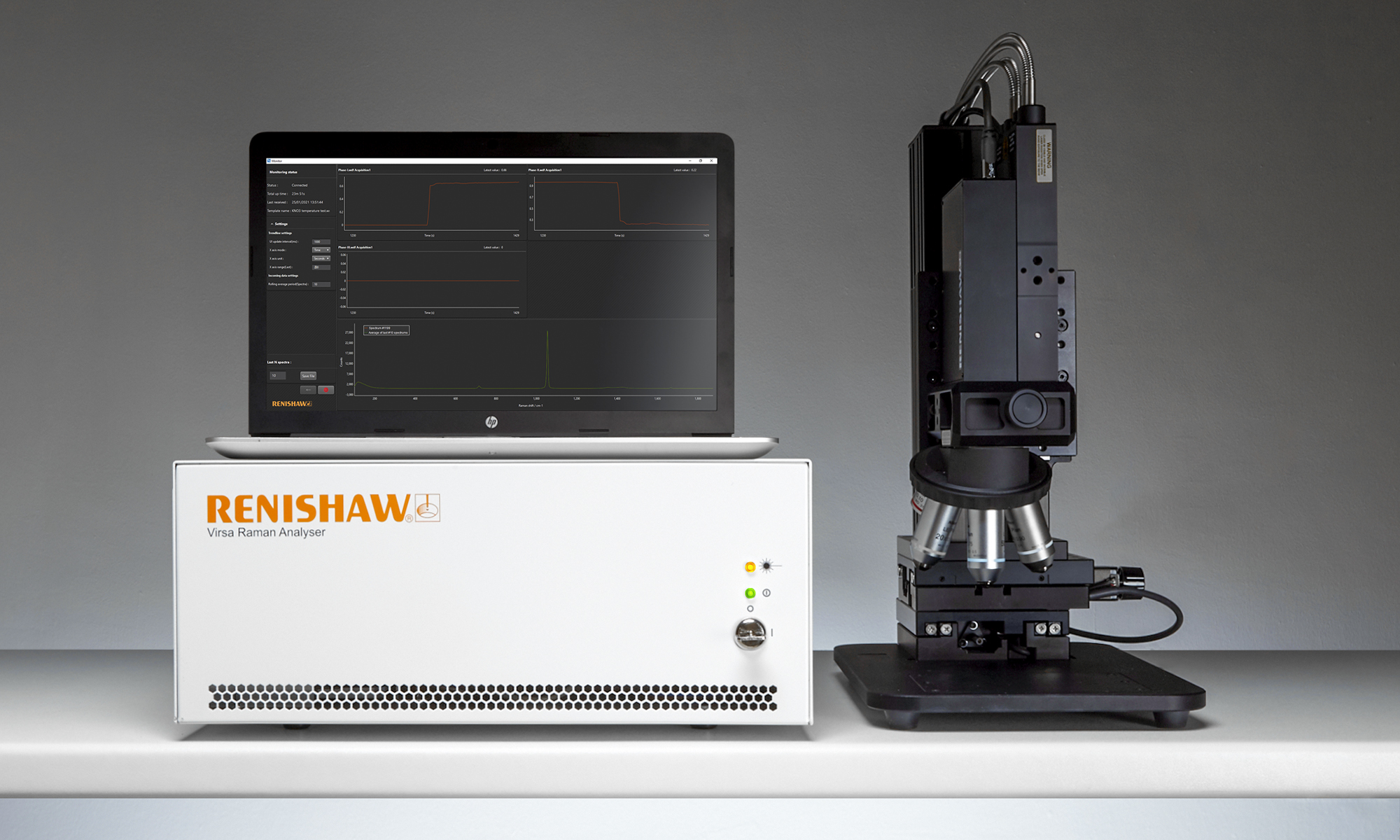 Capabilities

High performance portable fibre coupled Raman system
High spatial resolution x/y <1 µm, z <2 µm

Live white light sample viewing for accurate sample targeting

Motorised x/y/z stack that enables accurate objective positioning for single point or mapping purposes

Work with objective lens pointing downwards or horizontally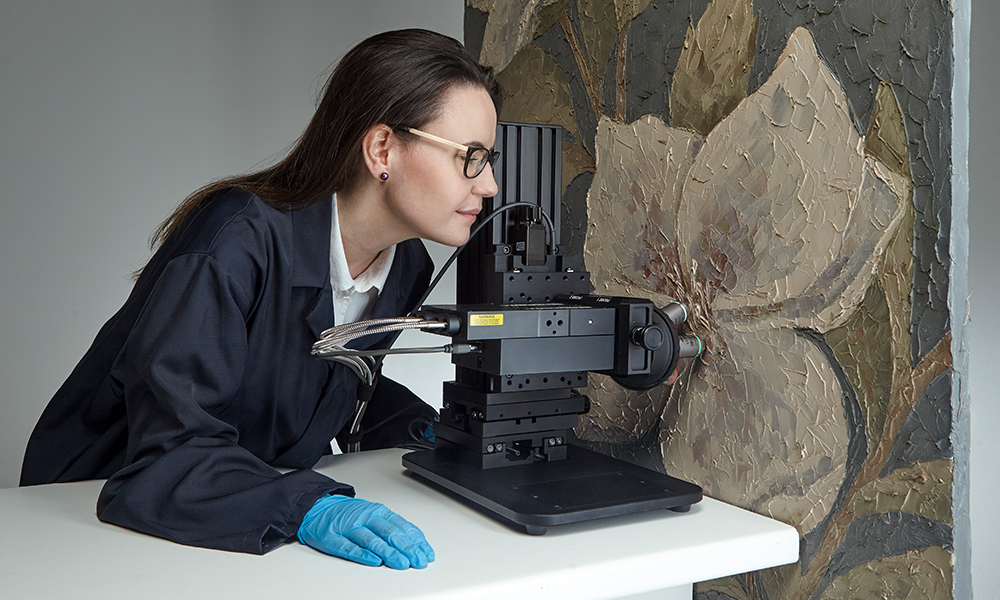 Flexibilty
This versatile system has a modest footprint measuring just 543 mm x 436 mm x 178 mm. It can be used on a bench or mounted in an industry-standard 19" rack. This makes it ideal for researchers wanting to expand the application of Raman beyond traditional laboratory-based microscope systems.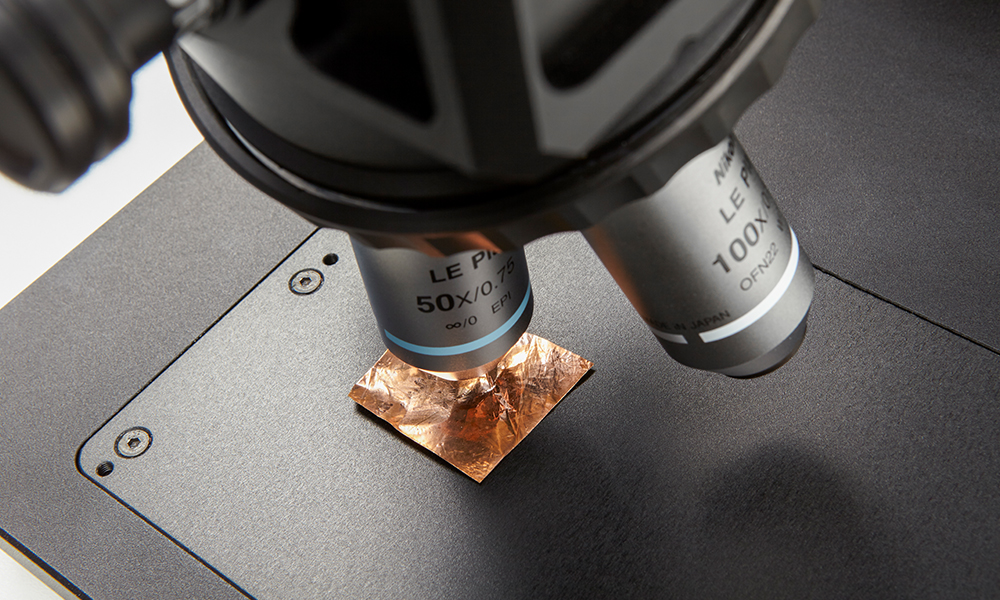 LiveTrack technology
The Virsa system uses fibre-optic probes enabling you to analyse large, uneven, moving, or chemically-changing samples. The probes incorporate Renishaw's LiveTrack focus-tracking technology which automatically keeps samples in focus, ensuring you get high-quality Raman data.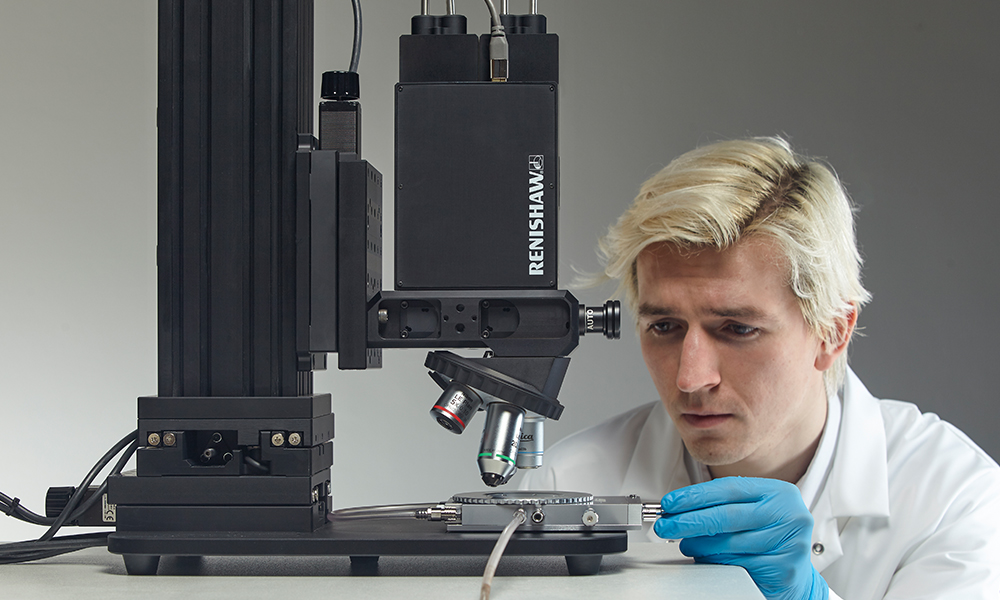 Monitor software
The Virsa system's software incorporates reaction monitoring allowing you to capture, analyse, and display data dynamically and in real time as it makes measurements at up to 8 times per second. This makes it especially suited for routine measurements on complex samples or processes.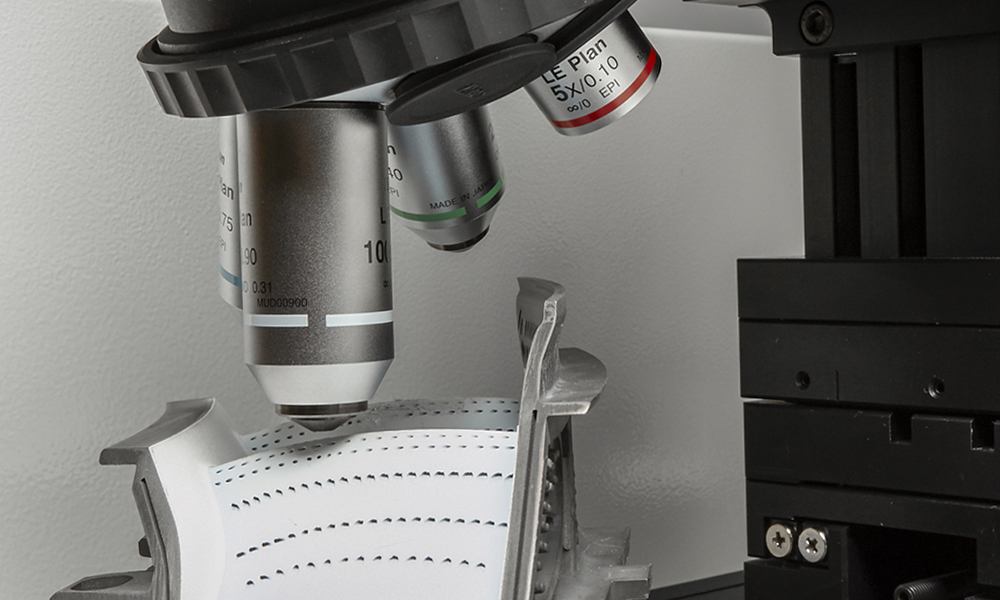 Coatings
Large, curved samples are a particular challenge for Raman analysis. LiveTrack focus-tracking is ideal for analysing complex surfaces such as this blade from a gas turbine engine. We were able to accurately measure the uniformity of the zirconia coating which prevents oxidation and corrosion.
Nanotechnology
In this example we analysed a graphene film grown on a copper foil substrate, such as is used for reel-to-reel graphene production. Graphene, being so thin, needs an efficient high-aperture lens for Raman analysis. Our results revealed the topography of the copper and the non-uniform distribution of the graphene.
Feature

As standard

Optional

Excitation wavelength - 532 nm | 660 nm | 785 nm
✓ Choose one or two wavelengths
Virsa fibre-optic probes:

VRP11: For general and bulk sampling


VRP21C: For high-spatial-resolution confocal measurements

✓ At least one probe included as standard
5 m fibre-optic cabling
✓
Additional lengths available
Objective lens
✓ One lens provided
Additional lenses available
Laptop with Renishaw's Windows-based Raman environment (WiRE) software
✓
Raman Assist - Online training modules
✓
Raman Assist - Installation, training and support
✓
Service level agreement
✓
Immersion probes
✓
Video viewer (through-lens direct sample viewing)
✓
SB200 computer controlled, three-axis probe positioner
✓
Probe objective turret (for easy switching between multiple objective lenses)
✓
Spectral databases for identifying unknown materials
✓
Advanced data analysis modules
✓
Want to find out more?
Your local representative will be happy to help with your enquiry.
You can contact them by completing a form or sending an email.

Get our latest updates
Stay up-to-date with our latest news, webinars, application notes and product launches delivered directly to your inbox.

Downloads: Virsa Raman Analyser
Compliance
Class 3B1 laser product
1As defined by IEC 60825-1:2014