Virsa™ Raman analyser for PAT bioprocess monitoring
The Virsa Raman analyser now comes with dedicated optics for PAT implementation in biopharmaceutical production. Raman spectroscopy is a fast and non-invasive optical spectroscopy technique for chemical analysis. In both upstream and downstream manufacturing, Raman spectroscopy can improve yield and save time by reducing the reliance on offline quality assurance techniques like high-performance liquid chromatography (HPLC).
Real-time chemical analysis for PAT
The US Food & Drug Administration (FDA)'s PAT framework for pharmaceutical manufacturers has initiated a shift towards principles of Quality by Design (QbD). These aim to achieve quality assurance throughout the manufacturing process. Real-time chemical analysis can help with understanding and controlling critical process parameters which affect a biopharmaceutical product's Critical Quality Attributes (CQAs).
Bioprocesses are inherently complex. Thus, it is incredibly challenging to achieve consistent titer or yield from multiple bioreactors. This uncertainty means that reactions are often excessively long and accompanied by an increase in costs. The Virsa Raman analyser can continuously monitor the concentration of metabolites in the bioreactor in accordance with PAT guidelines. You can easily control and terminate your bioprocess so that titer expression and bioprocessing yields are optimised, while saving on costs.
See the Virsa analyser in action
The Virsa analyser is customisable to meet your process analysis requirements. We would be pleased to demonstrate the Virsa analyser's capabilities using your samples.
Advantages of Raman Spectroscopy for bioprocessing
The Virsa Raman analyser enables non-destructive optical measurements of solids, liquids and suspensions/slurries. Raman spectroscopy can accurately measure the concentrations of aqueous cell culture media components such as glucose and lactate. Raman spectroscopy can also differentiate between different crystal structures (polymorphs). The chemistry and structure of multiple reactants, products and impurities in a culture medium can be analysed simultaneously.
Bioprocess monitoring for manufacturing
The Virsa analyser is designed for continuous inline monitoring of analyte and metabolite concentrations in real time. Continuous monitoring does not perturb the reaction, as Raman spectroscopy is non-destructive and does not interfere with living systems.
Renishaw's WiRE™ software includes the Monitor™ module which uses chemometric predictive models to help you understand your bioprocess. The Monitor module produces simple readouts and trends of the required process parameters in real time. Data is easily transferred to third-party applications for pass/fail criteria or feedback control loops.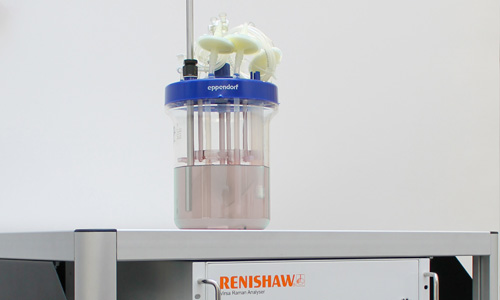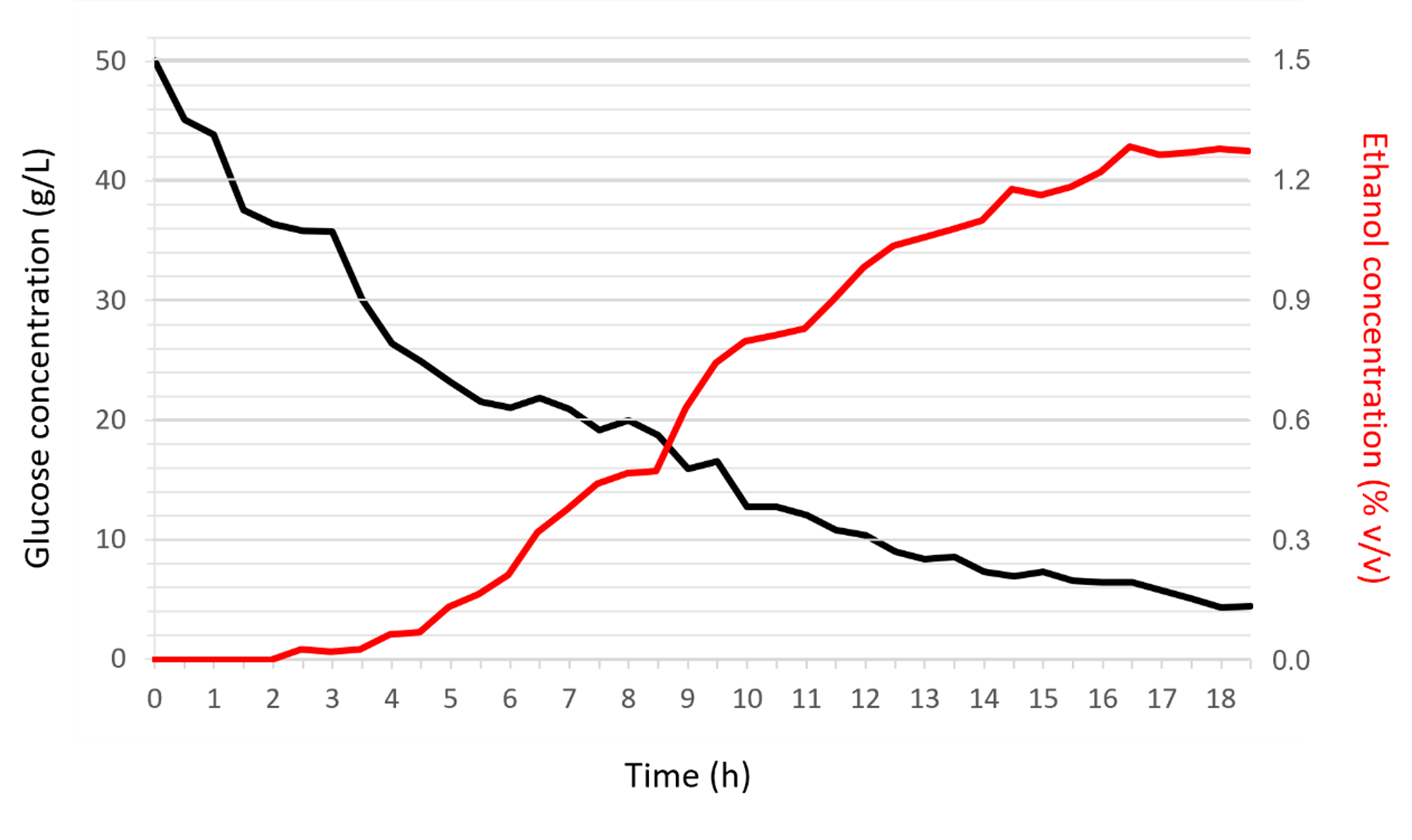 Real-time reaction monitoring setup and concentration results of reactant (glucose) and product (ethanol) during an 18-hour batch fermentation process.
Optimised scale up of bioprocessing with Raman spectroscopy
The Virsa analyser offers easy transfer of bioprocessing protocols, from laboratory-scale research to continuous inline process manufacturing with feedback control loop. Add the Virsa analyser to your fermentation or cell culture vessel for online quality assurance and real-time process control. The Virsa analyser is a compact, optical fibre-based spectrometer designed for remote process monitoring. It can use an immersion probe for in-situ Raman analysis of fluids in bioprocessing reactors, including through single-use bags or optical windows.
Speed:
Best-in-class sensitivity for faster measurement time
Accuracy:
Build strong predictive models with better specificity when measuring nutrient and metabolite concentrations, or other key performance indicators (KPI) and critical quality attributes (CQA)
Reliability:
Add a stand-by laser to avoid downtime when the primary laser reaches its lifetime
Support:
On-site services or online remote-access support from our international team of specialist Raman engineers.
Versatility:
Up to two laser wavelengths for the analysis of a wide variety of samples
Scalability:
Suitable for small single-use bioreactors to full-scale continuous manufacturing
Quality:
In-built spectral calibration on probe without a need for external referencing. IQ/OQ on installation
21 CFR part 11 compliant:
Under cGMP environment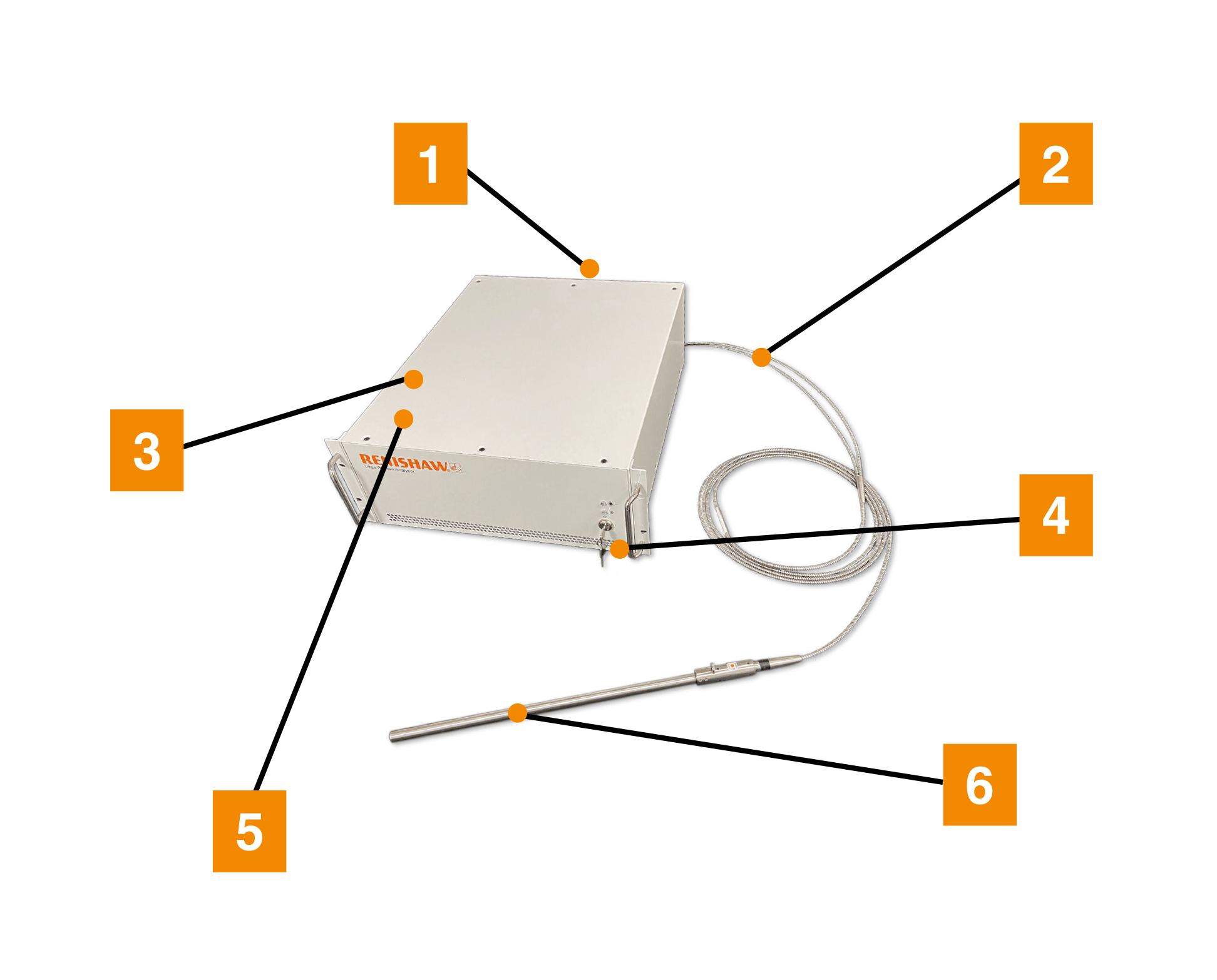 System features
1. Complete connectivity, interlocking and triggering options
2. 5 metre steel jacketed fibre optic cable
3. Robust single unit, industry standard 19 inch rack, contains all optics and control electronics
4. Laser emission indicator and control key
5. Optional backup laser for added redundancy
6. Variable length PG13.5 sleeve with integrated optics compatible with SIP/CIP. Length of the optics can be specified according to bioreactor size
External connectivity for bioprocess manufacturing
WiRE software can output data that is compatible with third-party multivariate data analysis and knowledge management software including synTQ and SIMCA®. OPC-UA interfacing can integrate the Virsa Raman analyser with a process control system in a manufacturing environment.
You can also control your Raman measurements using simple electronic hardware triggering or fully customisable Python™ or LabView™ scripts.
Raman support across the world
Renishaw's spectroscopy instruments are installed across thousands of leading academic research institutions and manufacturing facilities. Renishaw's global network of engineers understand a myriad of industrial QA/QC requirements and are always available to support you.
"Python" and the Python logos are trademarks or registered trademarks of the Python Software Foundation, used by Renishaw plc with permission from the Foundation.
LabView is a trademark of National Instruments. Neither Renishaw plc, nor any software programs or other goods or services offered by Renishaw plc, are affiliated with, endorsed by, or sponsored by National Instruments.