PHA3 and PHA80 adaptor plates
The PHA3 and PHA80 adaptor plates enable rapid interchange between PH10MQ PLUS (using PHA3) and SP80 (using PHA80) on the same CMM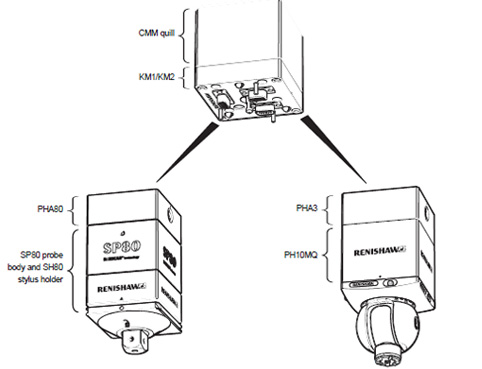 The CMM quill must first be fitted with a KM1 or KM2 (kinematic mounting plate) as appropriate, to which the PHA3 / PHA80 mounts via a repeatable kinematic joint featuring quick lock/unlock by simply turning a key. The PH10MQ PLUS has to be pre-mounted on the PHA3 and similarly the SP80 to the PHA80. The general mechanical scheme is shown below.
The PHA80 is a single-piece item with the KM1 / KM2 joint on its top face, and a direct mount to the top of the SP80 probe body on its bottom face. Therefore the KM80 is not required.
The PHA3 is supplied in two pieces - the PH10MQ PLUS is first mounted to the lower hollow piece making a subassembly, then the electrical connectors are attached before bolting this sub-assembly to the bottom face of the upper piece which has the KM1 / KM2 joint on its top face.
It is possible to incorporate the IS1-2 interface selector unit into the system interconnection scheme.
---
| | |
| --- | --- |
| | Part number |
| PHA80: SP80 to KM1 quick change adapter | A-2238-0752 |
| PHA3: PH10MQ PLUS to KM1 quick change adapter | A-2238-0751 |
---