TP2-5W legacy probe
Small, light, versatile probe
13 mm (0.51 in) diameter standard kinematic touch-trigger probe with an M8 thread mount
Adjustable trigger force to support a wide range of styli
Compatible with M2 styli
Compatible with the full range of Renishaw probe heads and accessories
Suitable for manual and DCC CMMs
Dimensions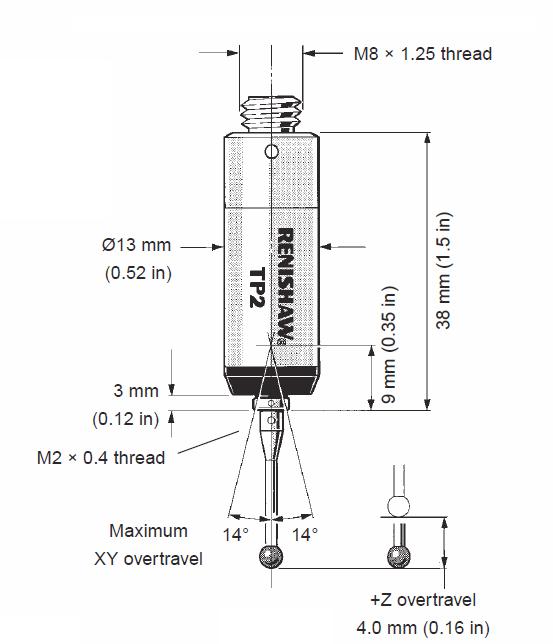 Specification
Principal application

Universal DCC and manual CMMs

Sense directions

5-axis: ±X, ±Y, +Z

Unidirectional repeatability maximum (2σ μm) (at stylus tip)

0.35 μm (0.000014 in)

Pre-travel variation 360° (XY plane)

±0.80 μm (0.000032 in)

Weight *excluding shank and cable

22 g (0.78 oz)

Stylus range

M2

Stylus force range (adjustable)

0.07 N - 0.15 N

Stylus force (set by Renishaw)

0.07 N - 0.08 N

Stylus overtravel (typical)
XY plane +Z axis

±14°
4 mm (0.16 in) @ 0.07 N
3 mm (0.12 in) @ 0.15 N

Maximum extension on PH10 series

300 mm (11.81 in)

Mounting method

M8 thread

Suitable interface

PI 7-3, PI 200-3, UCC
Above data applies to test conditions as follows:
Stylus length 10 mm (0.39 in)
Stylus velocity 480 mm/min (1.57 ft/min)
Stylus force 0.07 N - 0.08 N
Installation and user's guides
User guide: Touch-trigger probe systems: TP1, TP2, TP6, TP6A, PH1, PH6 and PH6M

TP1(S) - A robust shank-mounted probe offering generous overtravel, ideally suited to manual CMMs. TP2 5-way - A compact probe allowing component penetration, ideally suited to CNC/DCC machines. TP6 - Complementing the TP2 series, but carrying longer and heavier styli, this probe is suited to general purpose applications. TP6A - This probe has all the functions of the TP6 probe and in addition the patented Renishaw autojoint that permits fast probe exchange without the need to requalify.
| | Part number |
| --- | --- |
| TP2-5W probe and TK5 tool kit | A-1042-1890 |