UCC1 legacy controller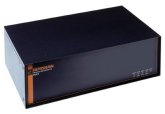 With UCC1, the CMM motion control is smooth, fast and accurate.
The UCC1 can operate in touch-trigger probing mode or with full scanning capability.

The UCC1 has a range of compatible additional card options. These are:
PICS / RS232
PH10 motorised head interface
SP80 probe interface card
SP25M probe interface card
MCU1 daughtercard
Additional axis
Temperature sensor card
Installation and user's guides
Installation guide: UCC1

The Renishaw UCC1 controller is designed to link a CMM host computer to the hardware of a CMM. The controller can provide services to the component parts of a CMM system.