PHC10-3 PLUS
Controller for PH10T PLUS, PH10M PLUS and PH10MQ PLUS range of motorised heads
The PHC10-3 PLUS controller has replaced the PHC10-3 and the PHC10-2 and provides support for RS232 and USB communications
PHC10-3 PLUS uses a 24 V external power supply, manages all the PH10 and PH10 PLUS head functions and interfaces with the CMM's computer
PHC10-3 PLUS does not manage the probe functions but does have the provision for a PI 200-3 or PI 7-3 interface card to be fitted internally
PHC10-3 PLUS (A-5863-0100)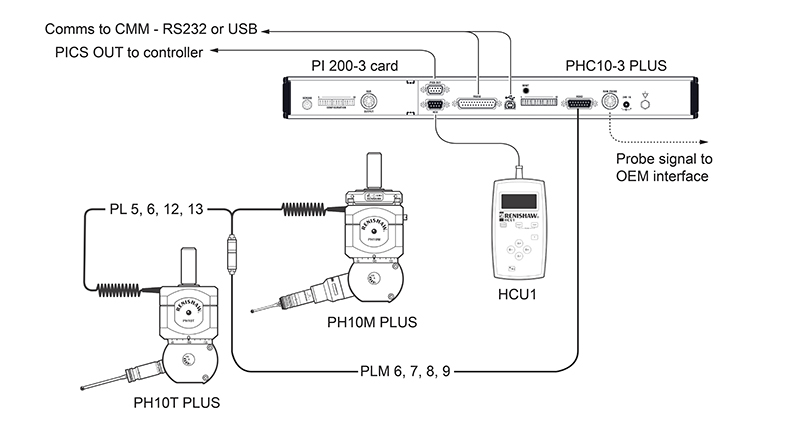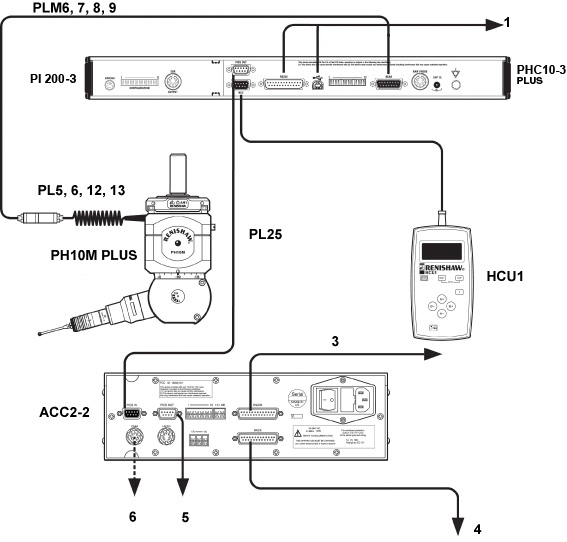 | Key | Description |
| --- | --- |
| 1 | Communication connection to CMM controller RS232 or USB |
| 3 | Communication to CMM controller |
| 4 | Communication to autochange rack |
| 5 | PICS output to CMM controller |
| 6 | Probe output to CMM controller |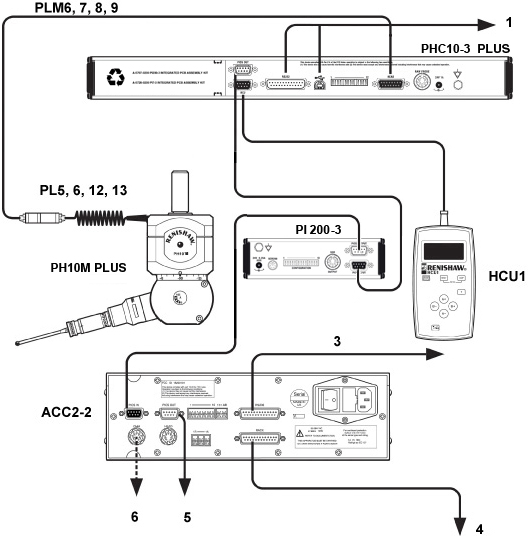 | Key | Description |
| --- | --- |
| 1 | Communication connection to CMM controller - RS232 or USB |
| 3 | Communication to CMM controller |
| 4 | Communication to autochange rack |
| 5 | PICS output to CMM controller |
| 6 | Raw probe output to CMM contoller |
Specification
| | |
| --- | --- |
| Power supply | 24 Vdc 49 W provided by the Emerson PSU (DP4024N3M) power adaptor |
| Data transmission | RS232 or USB1 and USB2 |
| Current consumption (at 240 V) | Less than 1 A |
| PSU electrical ratings | |
| Supply voltage | 100 V - 240 V +/-10% |
| Frequency range | 50 Hz - 60 Hz |
| Power consumption | 49 W max. |
| Transient voltages | Installation category II |
| Input connectors | 15-way 'D' |
| Probe output connectors | 7-pin DIN or 9-way 'D' type |
| Dimensions | |
| Height | 44 mm (1.75 in) - 1U |
| Width | 440 mm (17.30 in) |
| Depth | 180 mm (7.1 in) |
| Weight | 1.5 kg (3 lb 5 oz) |
| Maximum cable length | |
| RS232 | 50 m (164.04 ft) |
| USB | 5 m (extendible in lengths of 5 m by use of a hub, to a maximum length of 30 m) |
| Hand held control unit | HCU2 |
Installation and user's guides
Installation guide: PHC10-3 PLUS

This guide gives information on physical installation, system connections, communications and interface settings, as well as assistance in fault-finding during the installation of PHC10-3 PLUS.

Installation & user's guide: PH10 PLUS

Each of the heads in the PH10 PLUS motorised probe head range is a general purpose, versatile unit designed specifically for use on direct computer controlled (DCC) coordinate measuring machines (CMMs).

Installation & user's guide: PH10M-iQ PLUS

PH10M-iQ PLUS is a derivitive of the PH10 PLUS range of heads. PH10M-iQ PLUS has inferred qualification meaning that after initial calibration is performed, all other positions of the head are inferred which eliminates the need to recalibrate each required head position.
Part number
PH10M PLUS motorised indexing probe head kits
For use with multiwired probes and extension bars
PH10M PLUS probe head and shank kit (see below for complete part no.)
A-5863-11**

PH10M PLUS probe head, AM1 and shank kit (see below for complete part no.)

A-5863-19**

PH10M PLUS probe head only

A-5863-4000

PH10M PLUS probe head and AM1 kit
A-5863-1060
PH10MQ PLUS quill mounted, motorised indexing probe head kits
For use with multiwired probes and extension bars
PH10MQ PLUS probe head kit

A-5863-6000

PH10T PLUS motorised indexing probe head kits
For use with M8 threaded touch-trigger probes and extension bars

PH10T PLUS probe head and shank kit (see below for complete part no.)

A-5863-25**

PH10T PLUS probe head only

A-5863-5000

PH10M-iQ PLUS motorised indexing probe head kits with inferred qualification
For use with multiwired probes and extension bars
PH10M-iQ PLUS probe head kit

A-5863-7000

PH10 PLUS head controllers and hand control units

PHC10-3 PLUS RS232 head controller (includes 24 V PSU)
A-5863-0100
PHC10-3 PLUS head controller with integral PI 200-3 interface (includes 24 V PSU, 4 feet, documentation CD and USB driver)
A-5863-0200
PHC10-3 PLUS head controller with integral PI 200-3 interface, additonal PICS output port and PL25(T) PICS cable (includes 4 feet, documentation CD and USB driver)
A-5863-0300
HCU2 hand control unit

A-5882-0010

PH10 PLUS accessories
AM1 adjustment module for PH10M PLUS, PH10T PLUS, PH6M and MIH

A-1026-0320

AM2 adjustment module for PH10MQ PLUS

A-1036-0080

PHA3 - PH10MQ PLUS to KM1 quick change adaptor

A-2238-0751

24 V PSU for PHC10-3 PLUS, PI 200-3 and PI 7-3

P-EA02-0042

1U bracket kit

A-1018-0189

1/3 x 1U bracket

A-1018-0179

PHC10-2 bracket 1U to 2U
A-1018-0173
MS1

MS2

MS3

MS4

MS5

MS6

MS7

MS8

MS9

MS10

MS11

MS12

MS13

MS14

MS15

MS17

D shank

PH10M PLUS

A-
5863-

1139

1135

1136

1137

1141

1155

1142

1140

PH10M PLUS
(with AM1)

A-
5863-

1991

PH10T PLUS

A-
5863-

2521

2522

2524

2526

2527

2530

2531

2532

2533